Snow Flower And The Secret Fan
(2011)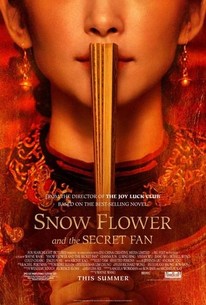 Snow Flower And The Secret Fan Photos
Movie Info
In 19th-century China, seven year old girls Snow Flower and Lily are matched as laotong - or "old sames" - bound together for eternity. Isolated by their families, they furtively communicate by taking turns writing in a secret language, nu shu, between the folds of a white silk fan. In a parallel story in present day Shanghai, the laotong's descendants, Nina and Sophia, struggle to maintain the intimacy of their own childhood friendship in the face of demanding careers, complicated love lives, and a relentlessly evolving Shanghai. Drawing on the lessons of the past, the two modern women must understand the story of their ancestral connection, hidden from them in the folds of the antique white silk fan, or risk losing one another forever. -- (C) Fox Searchlight
News & Interviews for Snow Flower And The Secret Fan
Critic Reviews for Snow Flower And The Secret Fan
Audience Reviews for Snow Flower And The Secret Fan
On the eve of Sebastian(Archie Kao) and Nina(Bingbing Li) moving to New York for work, Nina receives news that Sophia(Gianna Jun), an old friend she had met as a teenager when she tutored her in Chinese, is in a coma from being hit by a car on her bicycle. Nina is surprised when told that Sophia was trying to call her shortly before her accident since they had not talked in so long. That's nothing compared to discovering the manuscript Sophia had written about a friendship between two girls in rural China in 1829. The well-produced "Snow Flower and the Secret Fan" has certain things also going for it in its rare thoughtful exploration of the friendship between two women, coupled with how China has a problematic relationship with its past, with a focus on the barbaric practice of foot binding which here is sort of fetishized. That having been said, the movie would have been much improved concentrating on just one time period, not three, instead making this feel like mainly just the highlights of a pretty good television series, complete with special guest star.
½
I read the book a long time ago, but I still remember bits and pieces. This story nicely depicts that book, in my opinion. No movie can EVER completely follow a book, nor should it. These are different interpretations of a story. This movie was very well done, moving, and beautiful. I greatly enjoyed the parallels made with the modern world, and the ancient. This movie does not need to be compared to the book. It stands quite well enough on its own....
Cynthia S.
Super Reviewer
½
Directed by Wayne Wang, IDG China Media & Fox Searchlight Productions, 2011. Starring Bingbing Li, Gianna Jun and Hugh Jackman. Genre: Drama, History Question: Do you share a lifelong friendship with someone - a friendship that makes your life better, helps you through the dark times and shares the good times? Beaches showed a lifelong bond between two women and it told a nice tale, however, Snow Flower and the Secret Fan just wiped Beaches away with one flick of the fan. This may have been one of the greatest friendships stories I have ever witnessed on film. Lovely, just lovely. We have all had friendships when we were little, some even lasting into our early adulthood or beyond. You are lucky if you find a friendship like that. I had a friend when I was young and I loved her like a sister. Unfortunately, that friendship ended.. A few years later I tried again with another when I got to high school. In fact, I even saw Beaches with my "best friend", which is what you did when it came out in 1988. We laughed together and we cried together and said "That was so us." However, she ended the friendship a few years later and I have had difficulty ever since trusting others. So, I am always leery to see anything about a strong friendship between two women, but I am trying to expand my movie genres and decided upon Snow Flower and the Secret Fan since it was a foreign film. I hadn't reviewed a foreign film yet. I am happy to say I am glad I put my personal concerns aside. There are two stories told within this movie about a friendship between two women: one in modern-day China and one in 19th century China. Each story mirrors the other when trying to describe the love these two women had for each other. Both stories used the same actresses to tell the tales: Lily/Nina, (Bingbing Li)and Snow Flower/Sophia (Gianna Jun). In modern-day China, the girls are school friends. One helps the other learn better mandarin since she is Korean. They are inseparable despite the disapproval of Sophia's stepmother. However, her aunt knows of their strong friendship and tells them the story of the laotong girls or "old sames". This is an ancient way of how girls were bound together for eternity in friendship. These friendships were necessary due to the horrific obligatory life they had with men. It was an ultimate support system. Something happens to one of the modern girls and then the ancient story starts about Snow Flower and Lily - another pair of laotong girls. Their story paralleled the modern one and wove in and out seamlessly. Their story started in 19th century China as little girls (age 7) both had their feet bound on the same day. Yes, this was something they used to do to make sure their feet wouldn't grow. Their feet were not supposed get bigger than a few inches - in their world that was "perfection". This was to insure them worthy enough for a man. There were a few scenes about this torturous method that were very hard to watch. However, the young girls were then made to live together and then sworn to each other as laotong girls. This made them very happy. Then they learned a secret language to help them communicate where men could not see. This would be written on fans and passed back and forth as they grew up, married off and tried to have sons - since they weren't considered fit wives or decent women if they had only girls. I will admit the ancient story of the bound feet, the abuse they had to endure, the control men had over women, and something that everyone went along with, had me sick to my stomach. There was even one scene, although most of it was only heard, had me in tears with certain amount of anger only because I know things like that happened and still can happen today. However, the next scene was between Snow Flower and Lily and I think I cried even harder. Not a word spoken by either of them but the love, the kindness, the friendship portrayed was breathtaking. I have not revealed much of the plot with this review - just a few facts and some parts that made a powerful impact on me. Snow Flower and the Secret Fan was a beautiful movie about a friendship that will last 10,000 years. To witness something like that on film was a gift. I hope you get a chance to see this film; and I hope you are fortunate to see it with your best friend. My favorite thing: The scene I mentioned earlier with Snow Flower and Lily. My least favorite thing: Witnessing the control and abuse women had to endure. Rating: PG-13 Length: 120 minutes Review: 9 out of 10 The movie is based on the novel of the same name by Lisa See.
Tired of Previews
Super Reviewer
Snow Flower And The Secret Fan Quotes
| | |
| --- | --- |
| Nina/Lily: | I'd like to spend more time with my laotong tonight. |
| | |
| --- | --- |
| Snow Flower/Sophia: | I'm writing a book. It's about the old days. |