Snow White and the Huntsman
(2012)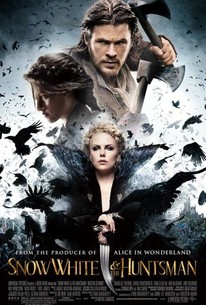 TOMATOMETER
AUDIENCE SCORE
Critic Consensus: While it offers an appropriately dark take on the fairy tale that inspired it, Snow White and the Huntsman is undone by uneven acting, problematic pacing, and a confused script.
Snow White and the Huntsman Videos
Snow White and the Huntsman Photos
Movie Info
In the epic action-adventure Snow White and the Huntsman, Kristen Stewart plays the only person in the land fairer than the evil queen (Charlize Theron) out to destroy her. But what the wicked ruler never imagined is that the young woman threatening her reign has been training in the art of war with a huntsman (Chris Hemsworth) dispatched to kill her. Sam Claflin joins the cast as the prince long enchanted by Snow White's beauty and power. -- (C) Universal Pictures
News & Interviews for Snow White and the Huntsman
Critic Reviews for Snow White and the Huntsman
Audience Reviews for Snow White and the Huntsman
½
There was a part that made me think they were copying Lord of the Rings with Snow White playing the part of Frodo. I was not too impressed with the movie.
½
The darker tone is consistent with the German original tale but it is hard to overlook the problems in this adaptation: the dwarfs totally wasted, a pathetic love triangle that rivals that of Twilight, Bella Swan rapidly turning into a warrior as soon as required by the script, and so on.
Carlos Magalhães
Super Reviewer
½
Of the endless adaptations of "Snow White and the Seven Dwarfs," it was not expected that a Kristen Stewart-lead version would be enjoyable at all, but this is a surprisingly good film, not without it's flaws however; Following the origin of the titular character, audiences get to see a new version of where her character comes from, as well as a gritty take on her. Now, let me first start by saying Kristen Stewart is easily the weakest part of the film by far, which is frustrating, given her role in the film. This was expected however, due to the talent in Chris Hemsworth and Charlize Theron by her side for the majority of the picture. Not only does this film add changes to the classic tale, but it also delves into emotional storytelling that was never really present in the Disney adaptation, or something like "Mirror Mirror." Chris Hemsworth is the stand-out in my opinion, stealing the screen every time he appears. His back story, mixed with his quick-wit, really makes for an enjoyably bad-ass character with heart to back it all up. That being said, his character is surrounded by performers who seem to be phoning it in most of the time, and when he comes across the dwarves, they are very standard-looking (almost taken right out of a tolkein novel), which makes him stand-out even more. Hemsworth's performance is distractingly great in this film. The story itself does have some changes, but for the most part it is very similar, with a few dark tones added in. The war aspect was obviously the biggest addition, and while nobody ever would have pegged a Snow White adaptation to be like this, the action works it's way into this film very well. The climax is great and very fun to watch. The visual effects are pretty impressive for the most part and the story has nice arcs, stopping for tender moments between characters and picking up just before getting too boring. As a whole, this film succeeds more than most movie goers would expect it to. In my opinion, this is a very solid film all around. Since this story is as old as time, there is not much else to say here. "Snow White and the Huntsman" takes more time to be a good film than one might expect, despite a sluggish performance from Kristen Stewart and a slightly over long running time. There are a few instances of lazy dialogue, but they are forgiveable later on the in the film, as the are always made up for with an emotionally unexpected scene. This film is not great by any means, but it is very enjoyable when you have nothing else to watch. Therefore, I give this a nice recommendation to young adults. It is very much in that demographic. "Snow White and the Huntsman" is a treat for fantasy fans or action/adventure junkies alike. I might enjoy this movie more than most people, but it seems to get better and better upon each viewing. Very enjoyable film.
Snow White and the Huntsman Quotes
| | |
| --- | --- |
| Snow White: | I would rather die today than live another day of this death. |
| | |
| --- | --- |
| Ravenna: | Mirror, mirror, on the wall. Who's the fairest of them all? |
| Mirror Man: | It is you, my queen. Yet another kingdom falls to your glory. Is there no end to your power and beauty? |
| | |
| --- | --- |
| Ravenna: | Do you hear that? It's the sound of battles fought and lives lost. It once pained me to know that I am the cause of such despair, but now their cries give me strength. Beauty is my power. |
| | |
| --- | --- |
| Snow White: | I would rather die than live another day of this death! |
| Greta: | What will happen to me? |