So Close
(2003)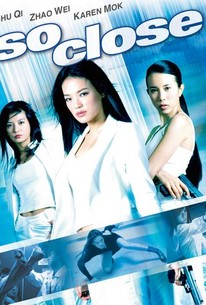 Movie Info
A high tech corporation is sent into turmoil when hackers demanding ransom break into their internal computer system with a powerful and apparently unstoppable virus. A mysterious, beautiful young woman who calls herself "Computer Angel" quickly saves the business. But when she requests a meeting with the company's shady CEO, he gets more than he bargained for. Lynn (Shu Qi of The Transporter) turns out to be a highly skilled assassin, who knocks off the CEO with the help of her rambunctious younger sister Sue (Zhao Wei of Shaolin Soccer). Sue uses a powerful computer program developed by the girls' murdered father, which uses satellites to tap into closed-circuit security cameras, enabling her to see where all the cannon fodder/guards are and direct Lynn's escape, while taking over the security team's audio system to pipe in a cover of the Carpenters' "(They Long to Be) Close to You." But things soon get dicey for Lynn and Sue. A brilliant, sexy forensics expert, Hong (Karen Mok, who also sings the film's theme song), is hot on their trail, and the creeps who hired the girls decide to cover their tracks by killing them. Complicating matters further, Lynn reunites with an old flame and contemplates giving up the business and settling down, much to Sue's chagrin. So Close was filmed in Mandarin, necessitating (reportedly poor) dubbing into Cantonese for the Hong Kong release. The film was directed by Corey Yuen, who made his Hollywood debut with The Transporter. Before that, he was best known for his fight choreography on many of Jet Li's films. So Close was shown at the Subway Cinema's 2003 New York Asian Film Festival.
Critic Reviews for So Close
Audience Reviews for So Close
This should rank as a guity pleasure but falls short even at that. It is as bad as the Charlies Angel's films, just less annoying, and with women who are actually attractive (except Karen Mok, heh). For a cheesy-but-fun all female actioner go for The Heroic Trio instead of this.
Tsubaki Sanjuro
Super Reviewer
This action adventure is a cross between the Charlie's Angels' films from America and the Raider (Tokyo and Seoul) films from China. Put these two series together and you have a better than average action movie.
The story turns out to be more deep than one may expect and while it does have its dramatic points, it is hard to complain about them when it involves Shu Qi or Zhao Wei. This film is about an 1 hour and 50 minutes and it does seem a bit long for a movie like this, but that is because of the slow segments, which are the meat of the story.
There is a good amount of action throughout this film and each of the 3 female leads gets a chance to shine. For the most part, the action is nothing spectacular and the CG is a little weak. Director Corey Yuen decides to go with a handful of slow motion shots for the fights and some upbeat music in the background, like the Raider films. If you like this kind of stuff, then this is the movie for you. The last 20 minutes is one long action sequence, which includes guns, hand-to-hand combat, and swordplay. The swordplay at this part is pretty impressive, if I may say so. We can thank Yasuaki Kurata, from Jet Li's Fist of Legend, for being the villain in this fight.
The acting is everything you expect from a film like this. The females are pretty, but they also do a decent job with their characters. Shu Qi is Shu Qi. Zhao Wei, of Shaolin Soccer fame, does a good job, especially in the second half. Karen Mok actually shows that she is the better actor and fighter of the three.
So Close is not an explosive big budget action adventure, but this is still a good watch to pass the time.
Fantastic high-octane thriller and very sexy on two sisters (Shu Qi and Zhao Wei) as professional assassins with amazing high-tech and kung-fu skills.
Dean McKenna
Super Reviewer
So Close Quotes
There are no approved quotes yet for this movie.