Soldier's Girl
(2003)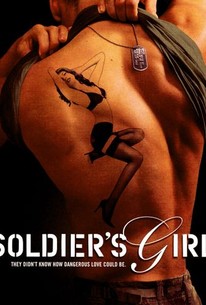 Movie Info
A group of soldiers in the deep South take vengeance against one of their own when word circulates that he's become involved with a transgendered nightclub performer in this drama based on a true story. Barry Winchell (Troy Garity) was a young man with an educational disability who volunteered for the United States Army and found himself stationed in Tennessee, where he soon struck up a friendship with Justin Fisher (Shawn Hatosy), a high-strung fellow GI with a drug problem. One night with nothing to do, Winchell and Fisher tagged along with a group of soldiers who ended up taking in a drag show at a bar in Nashville. One of the performers on the bill that night was Calpernia Addams (Lee Pace), a transsexual and former combat medic in the Navy who was a veteran of the Gulf War before taking the first steps towards sexual reassignment. While Winchell, who was straight, was aware that Addams was at least partially still male, he found himself attracted to her for her intelligence and sensitivity, while she found herself similarly drawn to him. As Winchell and Addams' mutual attraction grew into a romance, the unstable Fisher found himself increasingly confused and angry with Winchell, and he struck back by spreading rumors that one of the men in their company was gay, with fingers soon pointing towards Winchell. Despite the Army's "Don't Ask, Don't Tell" policy, the company's drill sergeant (Barclay Hope) took it upon himself to find and remove the gay soldier in his ranks, while the increasingly vicious Fisher aligned himself with Calvin Glover (Philip Eddolls), a young and narrow minded recruit eager to strike out with violence against those different from himself. Directed by veteran filmmaker Frank Pierson, Soldier's Girl premiered at the 2003 Sundance Film Festival.
Critic Reviews for Soldier's Girl
Audience Reviews for Soldier's Girl
Made for TV quality, but a good and bold story. Props to Shawn Hatosy for his strong performance.
Christian C
Super Reviewer
½
Oh my goodness this was really, really, really good. I had no idea that this was a true story until the end. I just got done watching this and I am still reeling from it. It is just as good as Boy's Don't Cry. There is a great bonus feature on the DVD that explains the whole case with the real people that the movie was about. Well done movie that honors this poor soldier.
Cynthia S.
Super Reviewer
½
A real gem of a made for TV movie. This deserved a cinematic release in my opinion. It's better than the majority of films that get released. Soldier's Girl tells of a beautiful true love story and it's shocking conclusion. There's a dreaded sense of knowing throughout this film. The tension doesn't so much build up, but is strongly hinted at. You just know when the young, impressionable and very angry soldier joins, that something bad is going to happen. The performances are incredible. Pace was literally unrecognisable. I say this as a fan of Pushing Daisies, and even I had to look up who the actor was. He captures the feminism of his character perfectly and makes it very understandable for a straight man to fall for him. Hatosy also gives an excellent turn, one of great hate but also empathy. It's a tragic and very brutal film with a sickening finale. Not in it's gratuity, but just because of the nature of it all. A film that says, perhaps sex should be taken out of the equation when it comes to love.
Luke Baldock
Super Reviewer
Soldier's Girl Quotes
There are no approved quotes yet for this movie.