The Soloist
(2009)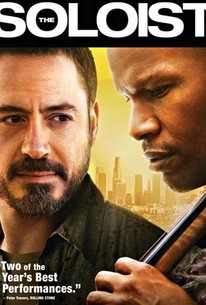 TOMATOMETER
AUDIENCE SCORE
Critic Consensus: Though it features strong performances by its lead players, a lack of narrative focus prevents The Soloist from hitting its mark.
Movie Info
Columnist Steve Lopez is at a dead end. The newspaper business is in an uproar, his marriage to a fellow journalist has fallen apart and he can't entirely remember what he loved about his job in the first place. Then, one day, while walking through Los Angeles' Skid Row, he sees the mysterious bedraggled figure Nathaniel Ayers, pouring his soul into a two-stringed violin. At first, Lopez approaches Ayers as just another story idea in a city of millions. But as he begins to unearth the mystery of how this alternately brilliant and distracted street musician, once a dynamic prodigy headed for fame, wound up living in tunnels and doorways, it sparks an unexpected quest. Imagining he can change Ayers' life, Lopez embarks on a quixotic mission to get him off the streets and back to the world of music. But even as he fights to save Ayers' life, he begins to see that it is Ayers--with his unsinkable passion, his freedom-loving obstinacy and his valiant attempts at connection and love--who is profoundly changing Lopez.
Critic Reviews for The Soloist
Audience Reviews for The Soloist
½
Carried by two outstanding leading men (Downey Jr. and Foxx) this film celebrates the power of friendship without ever getting too sappy or unrealistic in its outlook on curing or dealing with mental illnesses. Next to the great performances, the fine camera work and direction make this an underrated drama with lots of memorable scenes. A little shocked not more people reacted positively to it.
I had low expectations for this movie, based on bad reviews, but in all, it wasn't that bad. The acting was solid - Robert Downey Jr. really is a talent, and Jamie Foxx embraced a challenging role - and the visual treatment was interesting, wandering away from the narrative in places just to throw in odd moments of beauty. The story is one you've heard a hundred times, but for a one-time watch, there's no reason this forgettable movie's any worse than the many like it that have come before. Nothing really original, but not a failure, either. I give it one big "Mmmmeh."
Daniel Perry
Super Reviewer
Jameson Worley
Super Reviewer