Solomon Kane
(2012)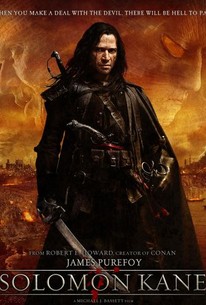 TOMATOMETER
AUDIENCE SCORE
Critic Consensus: Solomon Kane's formulaic and bleak narrative is overcome by an entertaining, straightforward adherence to its genre, exciting gore, and a gratifying lead performance by James Purefoy.
Movie Info
Captain Solomon Kane is a brutally efficient 16th Century killing machine. Armed with his signature pistols, cutlass and rapier, he and his men unleash their bloodlust as they fight for England in war after war on all continents. As the story opens, Kane and his band of pillagers are carving a bloody path through hordes of defenders in an exotic city in northern Africa. But, when Kane decides to attack a mysterious nearby castle to plunder its rumored riches, his mission takes a fateful turn. One by one, Kane's men are picked off by demonic creatures until he alone is left to face the Devil's own Reaper -- dispatched from the depths of Hell to lay claim to his hopelessly corrupt soul. Though Kane at last manages to escape, he knows that he now must redeem himself by renouncing violence and devoting himself wholly to a life of peace and purity. -- (C) Official Site
News & Interviews for Solomon Kane
Critic Reviews for Solomon Kane
Audience Reviews for Solomon Kane
½
It started out with some promise, with decent performance by Peter Postlethwaite (I hope for posterity, this wasn't his last film!), but it devolved into an incomprehensible slurry at the end with bigger holes in the plot than had the Titanic. The costumes and special effects were commendable -- but what really was the point of it all?
Christian C
Super Reviewer
Decent mystery adventure film based on old pulp novels that lives off its really great locations and set pieces that look and feel real, making for a great gloomy medieval atmosphere. Even though the characters remain somewhat one-dimensional and the showdown is rather short, the film does never fail to entertain.
A murderous pirate renounces his evil ways in the hope of saving his soul from damnation but is drawn back to his violent ways when an evil sorcerer's army invades the land. Solomon Kane reminded me of a Hammer Studios period chiller done in the style of The Lord Of The Rings. The medieval setting and religious imagery of something like The Witchfinder General combine with some bloody, rain and mud soaked battle sequences to create a believably grimy world of superstition and violence that makes a nice backdrop to James Purefoy's intense central performance and it's this grittiness that makes it stand out from the never-ending crowd of Hollywood style comic strip action films. Unfortunately and almost inevitably, the script lets the side down; this is the third fantasy inspired action film I've seen this week, and the third that includes a plot revolving around a tough, amoral warrior that faces his nemesis to rescue a kidnapped damsel in distress. How original. And anyone who fails to guess the identity of the masked villain would have to be a paste eater on a Ralph Wiggum level. The cheesy CGI monsters tacked on to the beginning and end of this otherwise brutally realistic hack and slasher clearly compromise its vision and it's a shame that film makers today feel the need to play to the cheap seats in this way, every single time. Still, thanks to some strong performances and quality production design, it's easily the best of the three.
Solomon Kane Quotes
| | |
| --- | --- |
| Solomon Kane: | If I kill you, I am bound for hell. It is a price I shall gladly pay. |
| | |
| --- | --- |
| Solomon Kane: | There are many paths to redemption, not all of them peaceful. |
| | |
| --- | --- |
| Solomon Kane: | I was never more at home than I was at battle. |