Some Kind of Wonderful
(1987)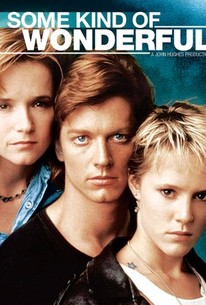 TOMATOMETER
AUDIENCE SCORE
Critic Consensus: Some Kind of Wonderful is above-average '80s teen fare for people who need as much John Hughes in their lives as possible.
Some Kind of Wonderful Videos
Some Kind of Wonderful Photos
Movie Info
In a gender-reversed version of his previous hit Pretty in Pink, John Hughes retreads all-too- familiar ground in Some Kind of Wonderful, the story of a sensitive, young would-be artist, Keith (Eric Stoltz), who vies for the affection of his high school's popularity queen, Amanda (Lea Thompson), seemingly out of some deep-rooted insecurity regarding his social ineptitude. He enlists the help of his butch best friend and fellow misfit, Watts (Mary Stuart Masterson), unaware that she secretly pines for him. While she goads him to give up his pointless pursuit of Amanda, he encounters one other small obstacle -- Amanda's rich bully of a boyfriend, Hardy (Craig Sheffer), who threatens Keith with a face rearrangement. Undeterred, Keith decides he will, by any means necessary, escort his dream girl to the prom -- but not before he buys her expensive jewelry with the money from his college fund in order to impress her. (Hughes expects the audience to side with Keith when his father protests.) Some Kind of Wonderful is pure fantasy, but the plot is too tired and flawed for it to be completely satisfactory escapism. Still, the performances are all-around good and the ending is slightly more likeable than its predecessor's. Hughes decided to use the original Pretty in Pink ending, which had been dropped from the original after poor audience response at the advance screenings.
News & Interviews for Some Kind of Wonderful
Critic Reviews for Some Kind of Wonderful
Audience Reviews for Some Kind of Wonderful
With the help of a friend-zoned tomboy, a mechanic pursues his high school's troubled beauty queen. By itself, this is an inoffensive John Hughes classic. Dealing with all of Hughes's normal themes of high school alienation and class differences, the film's optimistic and charming story work. However, it doesn't take a genius to see that Some Kind of Wonderful is a gender-reversed Pretty In Pink, and there we find some notable issues. Spoiler Alert: the protagonist ends up with his friend, not the slightly upper class object of his affections, but in Pretty in Pink the female protagonist finds love with the upper class prep boy. Why the difference? Could it be that the woman, unable to procure a stable living without the help of an economically viable husband, must choose a mate based on earning potential whereas the man is able to choose based on affection and loyalty, qualities that are far more likely to result in a viable relationship? It seems so, which bespeaks a sexism that I haven't seen in Hughes's other work. Overall, I enjoyed the film until I thought about it.
Jim Hunter
Super Reviewer
½
Some Kind of Wonderful is a terrific drama that boasts some wonderful performances and a good story. Although it is not a great film, it is still worth seeing. Overall this is a good film that is imperfect, but due to its cast and effective script by John Hughes. The drama elements work well and Hughes has crafted a well rounded film that has something for every viewer. Although not perfect, the film is very entertaining and like every other one of Hughes productions, it concerns teenage issues and it is a well rounded movie that offers much more than what you'd think. The film is directed by Howard Deutch, and even then he keeps all the signatures which makes for a worthwhile John Hughes storyline. Although the filmmakers recycle a few things from Pretty in Pink, the film still works well enough. Along with the drama, there are a few humorous bits here and there, and the result is a good film that is worth seeing if you Hughes's work. Luckily there are few flaws in this one, and the well written script overcomes the film's weaknesses sand makes for a really relatable film. Like with every other films that John Hughes has written or directed, this is a charming film that is worth seeing and is still relevant to new viewers and old viewers. The film is flawed, but is worth seeing. Even if it's nothing really new in terms of plot, Some Kind of Wonderful has heart and for that it is a well crafted movie that is engaging from start to finish. John Hughes was a great director and screenwriter and with this one, he is able turn recycled ideas that into something that is quite good due to his writing ability as an effective screenwriter.
Cast: Eric Stoltz, Lea Thompson, Mary Stuart Masterson, Craig Sheffer, John Ashton, Elias Koteas, Molly Hagan, Chynna Phillips, Maddie Corman, Candace Cameron Bure Director: Howard Deutch Summary: In this 1980s classic from writer-producer John Hughes, Watts (Mary Stuart Masterson) is a tomboy who has a crush on her best friend, Keith (Eric Stoltz). But her feelings go unrequited as Keith falls for the hopelessly feminine Amanda (Lea Thompson), a rich girl with snobby friends. Unfortunately for Keith, Amanda's ex-boyfriend wants her back and is willing to do anything to get her. But does that mean he and Watts are destined to be together? My Thoughts: "I am a huge John Hughes fan and I love all his films. "Some Kind Of Wonderful", has been a favorite of mine since I was very young. I remember watching it with my older sister and all of her friends. The film has some really great and fun character's, like Duncan. I loved that character. The story is relatable and is full of teen angst. This film goes with the saying that girls and boys can't just be friends. The sound track is good as well. I own this movie and watch if often. Just one of those movies you watch that takes you back in time. Great story, character's, and acting. A must see John Hughes film."
♥˩ƳИИ ƜѲѲƉƧ♥
Super Reviewer
Some Kind of Wonderful Quotes
| | |
| --- | --- |
| Hardy Jenns: | She's gonna have to beg. |
| Duncan: | I don't think its gonna be necessary... |
| | |
| --- | --- |
| Watts/"Drummer Girl": | You break his heart, I break your face. |