Some Like It Hot
(1959)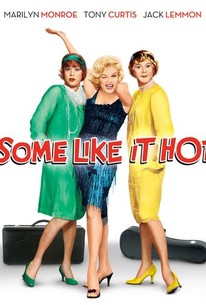 Movie Info
Two Struggling musicians witness the St. Valentine's Day Massacre and are now on the run from the Mob. Jerry and Joe cross-dress into an all female band. In addition to hiding, each has his own problems; One falls for another band member but can't tell her his gender, and the other has a rich suitor who will not take "No," for an answer.
News & Interviews for Some Like It Hot
Critic Reviews for Some Like It Hot
Audience Reviews for Some Like It Hot
When people talk about old school, this is one of the films that they're talking about: a romantic comedy that happens to be a social commentary that riffs off of a terrible bit of real life history, namely The St. Valentine's Day Massacre in Chicago. The romance? Eh. It's not a real winner, sure, and doesn't bear much scrutiny, but the players work overtime selling it, and so the deft writing is ably aided by some very charming personalities. One of the all time greats.
Kevin M. Williams
Super Reviewer
This raucous comedic farce from Billy Wilder is often considered to be one of the best and funniest comedies ever made...and you know what? The reputation isn't wrong. Joe and Jerry are two Chicago jazz musicians who, after witnessing a gangland murder, are forced to go on the run. Obtaining some costumes, they board a train for Florida with an all girl jazz band as its newest and more homely members "Josephine" and 'Daphne". Besides the obvious problems with having to keep up their ruse in general, things really get complicated (and hilarious) when Josephine falls for fellow band member Sugar Kane, and an aging playboy falls for Daphne. Also, the mob happens to find their way to Florida as well... Everyone talks about how funny this film is, and yeah, I expected to laugh, but I also figured this film would be kinda overrated as well. Much to my surprise and delight, this film had me in stitches through almost all of the runtime, and I didn't think it was overrated at all. This really is a sharp, witty, and breezy comedy masterpiece. It set the standard for all future cross dressing related comedies, and has yet to be topped. Tony Curtis is great as Joe/Josephine and Jack Lemmon is tremendously awesome as Jerry/Daphne. George Raft is fun as the mob boss who wants them dead, and Marilyn Monroe is a delightful knockout as Sugar Kane. As the man who falls for Daphne, Joe E. Brown is an absolute scream. The film does go for some obvious targets with some of the jokes, but they are deftly handled, and feel quite relevant and fresh. Yeah, there is the obvious need for suspension of disbelief, but that only adds to the fun. With a strong start that just keeps building and building, this truly is one of the all-time greats that you really must see if you haven't already done so.
Chris Weber
Super Reviewer
Some Like It Hot is highlighted by a wit that is surprisingly prescient of modern times. The script mines gender humor with a sophisticated modernity that still seems remarkably fresh even today. The satire is composed of well worn targets, but they're handled in such a lighthearted way, it entertains through the commentary. Granted this farce is more apt to cause mild giggles than outright guffaws. I wouldn't call it the funniest comedy ever made, but the plot developments are so captivating, it's easy to see why this film ranks amongst the finest of the period. fastfilmreviews.wordpress.com
Mark Hobin
Super Reviewer
Some Like It Hot Quotes
| | |
| --- | --- |
| Jerry/Daphne: | We've been playing with the wrong bands. |
| | |
| --- | --- |
| Sweet Sue: | Didn't you girls say you went to a conservatory? |
| Jerry/Daphne: | Yes. For a whole year. |
| Sweet Sue: | I thought you said three years. |
| Joe/Josephine: | We got time off, for good behavior. |
| | |
| --- | --- |
| Sweet Sue: | Didn't you girls say you went to a conservatory? |
| Jerry/Daphne: | Yes. For a whole year. |
| Sweet Sue: | I thought you said three years. |