Somebody Up There Likes Me
(1956)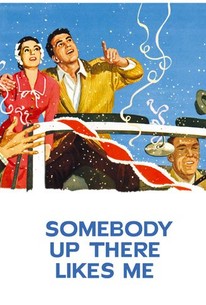 Somebody Up There Likes Me Photos
Movie Info
Based on boxer Rocky Graziano's autobiography, this film accurately depicts the teen-aged Rocky as an unregenerate punk, evidently doomed by his slum environment, and his lousy attitude, to a life of petty crime. Determining that the only way he'll make a living is with his fists, Rocky becomes a boxer.
Critic Reviews for Somebody Up There Likes Me
Audience Reviews for Somebody Up There Likes Me
This was Paul Newman's second film, and because his first was so poor, it was the one that launched his career. He got the role of Rocky Graziano after James Dean, who was originally cast, tragically died. Graziano is shown for a good portion of the film as an out of control young man, stealing things, running rackets, and defying authority - even that of the US Army. Newman plays the part reasonably well, and though he was a little over-the-top at times, his presence and charisma more than make up for it. While the story is somewhat predictable, since we know Graziano will someday be a world champion boxer, it's well told by director Robert Wise, and not shy about showing us his shortcomings (with the real Graziano's full approval). His relationship with his father (Harold J. Stone), who had his own boxing dreams frustrated, is very touching. The real hero of the story is his wife (Pier Angeli), who always looks out for Graziano the man, as opposed to Graziano the boxer. Angeli plays the part well, playing her supportive scenes without being cloying, getting tough when she needs to be, and having a couple of very cute scenes with their daughter (Angela Cartwright) besides. "Baby, your father is the champ," exclaims mom. "I have to go to the bathroom," the little one replies. It's in human moments like these that make the film, and the action in the final boxing match is pretty good as well.
Antonius Block
Super Reviewer
½
Early in the movie when Rocky is running around with a street gang, including Sal Mineo and Steve McQueen, you can see why Robert Wise was later given the job of directing West Side Story. I recently read an informative biography about Paul Newman. I didn't realize that he came out of the Actor's Studio, the same method school as Brando, Dean and many others. Newman observed the real Rocky Graziano, saw the neighborhoods where he lived, trained in the gym where he trained. Incidentally, Brando based his manner and voice for Stanley and Terry on Rocky too. Newman embodies a character who seems so different from the ones I've seen him play a later in life. He is excellent. I don't think I've seen any other movies in which Pier Angeli plays a role. Her role here is not the normal doting girlfriend/wife who fades into the background of the story. True she is doting on Rocky, but she shows a strength and a vulnerability that is usually not explored in a supporting part in a biopic like this. The circle of friends and family who surround Rocky through his life are played by a great cast of character actors. Parts of this movie were filmed on location in New York, when that was still a fairly new practice. So it has a realistic feel that doesn't often shrink from the tougher issues in Rocky's life. The big boxing match near the end must have been an inspiration to Scorsese and De Niro for Raging Bull. The movies of course share black and white cinematography. While Scorsese played with the camera speed more, here Wise keeps things at realistic speeds. The makeup work done on Newman as he gets pummeled and swollen looks quite similar to De Niro's makeup. This is a lifelike biopic that covers many years in Rocky Graziano life. The worst part about it is Perry Como's rendition of the title song over both sets of credits.
Byron Brubaker
Super Reviewer
A flawless movie on all accounts, it's one of the best boxing movies to ever be made. Its longstanding reputation is well warranted and I feel like it should be praised even more. Paul Newman is both charming and determined, he plays a character that has truly had nothing to his name since he was born and been treated as though he is worthless and stupid. It's so powerful and inspiring when he turns his whole life around and gets everything he goes for. The visual style of this is downright scary, there is not one shot that doesn't look hand crafted and meticulously planned out. Robert Wise created a film that is both a great piece of entertainment and an unforgettable piece of cinema.
Conner Rainwater
Super Reviewer
Somebody Up There Likes Me Quotes
There are no approved quotes yet for this movie.