Someone Great
(2019)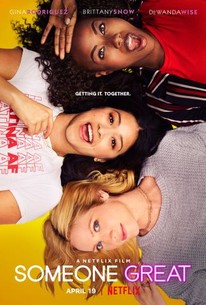 TOMATOMETER
AUDIENCE SCORE
Critic Consensus: What Someone Great lacks in originality it makes up for in relatability and charm, thanks in large part to the undeniable chemistry between its talented leads.
Movie Info
Aspiring music journalist Jenny (Gina Rodriguez) has just landed her dream job at an iconic magazine and is about to move to San Francisco. Rather than do long distance, her boyfriend of nine years (Lakeith Stanfield) decides to call it quits. To nurse her broken heart, Jenny gathers up her two best friends Erin (DeWanda Wise) and Blair (Brittany Snow) for one outrageous last adventure in New York City. From writer/director Jennifer Kaytin Robinson (creator of MTV's Sweet/Vicious) SOMEONE GREAT is a hilarious and heartfelt story of friendship, love, and what it means to let go of your twenties and enter adulthood.
Critic Reviews for Someone Great
Audience Reviews for Someone Great
½
When the end credits roll you feel as if you had a pretty great day of partying in New York. There are drugs, there is sex, funky music and a lot of cursing. Reducing the film to the quirky humor, which relies on dialogue not on punchlines, wouldn't do it justice though. This story is primarily about a break-up, which makes for a couple of very touching and true moments too. The protagonist trio, especially Gina Rodriguez, has a fantastic comedic timing and turns a film without a plot to speak of into a pleasure from beginning to end.
It's very difficult to know whether or not a Netflix film has any potential because you really don't know the reasoning behind why it was put there in the first place. With surprise films like Set-It Up and most notably Roma, they've pretty much solidified themselves as a full-on distribution company into people's homes, release numerous fantastic pieces of entertainment, as well as some terrible stuff. While Someone Great definitely falls on the positive side for me, it's actually slightly forgettable. Let's see why or why not this film warrants any recommendations. Following Jenny (Gina Rodriguez) after her very recent break-up, as she is about to move away from her friends and family, she decides to have one last wild night out on the town with her best friends. The premise itself is cliche and doesn't warrant much originality as the film progresses, but I have to admit that this is a cast that makes you believe in friendship. Although there are certainly a few unnecessary visual images in the film that felt forced, I will say these characters are all enjoyable to watch. Gina Rodriguez is a fantastic performer in my opinion and I will always enjoy watching the films that she is a part of. With the welcome addition of Brittany Snow and DeWanda Wise, this is a trio of friends that I truly did buy into. That being said, LaKeith Stanfield as the ex-boyfriend was easily the highlight of the movie for me. He steals every scene of every movie he appears in and I don't think that will fade away for me anytime soon. His on-screen presence is electric, even though he's not in much of the film. For the performances alone, this is a worthwhile rom-com. Sadly, even though the film concludes on a very real note and wraps the entirety of the film up in a nice way, the way certain story threads tie up throughout the second and third acts felt either forced or cliched in my opinion. Luckily, since the overall movie and cast are enjoyable, I was able to forgive these aspects and enjoy myself in the end. I can't quite get myself to recommend this movie to everyone, but it's a great Saturday afternoon Netflix watch if you have nothing to do. Solid performances, a solid soundtrack for the tone of the film, and an overall satisfying story.
Someone Great Quotes
There are no approved quotes yet for this movie.