Somersault
(2004)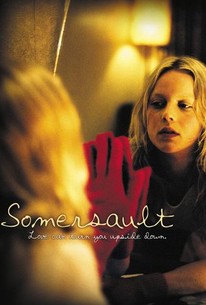 TOMATOMETER
AUDIENCE SCORE
Critic Consensus: A poignant coming-of-age tale marked by a breakout lead performance from Abbie Cornish and a successful directorial debut from Cate Shortland.
Movie Info
After making a misjudged advance towards her mother's boyfriend, 16-year-old Heidi flees her home for the small Australian ski town of Jindabyne. Entranced by the startling beauty of the wintry landscapes and falling snow, she begins to create a new life for herself. With little money or practical experience, she accepts a job at a petrol station and finds lodging with Irene. When she falls for Joe, the son of a wealthy local farmer, her self-destructive tendencies re-surface, and her fragile new world threatens to come tumbling down. An erotic, lyrical depiction of a young girl's sexual awakening, "Somersault" is a breakthrough debut for both its director and its star.
News & Interviews for Somersault
Critic Reviews for Somersault
Audience Reviews for Somersault
½
"Somersault" is a vivid, interesting coming-of-age tale about a young girl who runs away from home, and quickly has encounters and experiences that force her to grow up fast. Heidi (Abbie Cornish) is a lively teenage girl living at home with her single mother (Olivia Pigeot). When she's caught kissing her mum's creepy tattooed boyfriend, she does a runner, ending up in a lowly ski resort. She charms her way into a job and a place to stay, but soon her abundant sexuality and immaturity mean she eventually becomes unstuck... This is a bleaker depiction of Australia than is seen in most popular soap operas. Shot in shades of grey and blue, it is shown to be a cold, barren wasteland inhabited by disconnected, lonely human beings. Director Cate Shortland shows this off to good effect, but could have done without the arty shots of falling leaves, and slow-motion captures of passing countryside and kept the story told in a more straightforward way. The coming-of-age plot is a standard hook, naive teenage girl uses newfound sexuality to achieve intimacy, people exploit her, she defeats this and becomes hardened and wiser as a result. "Somersault" does not quite follow this path, and while there is a suggestion that Heidi has become wiser by the end, it is clear she still has a lot of growing up to do. Throughout, the girl seems dazed and disconnected by the real world around her, and in this the parallel between her and an autistic boy she encounters is not exploited nearly enough. As Heidi, Abbie Cornish gives a performance that is at once sultry and naive. With blonde hair, fresh face and husky voice, Abbie captures the girl's sensuality and insecurity very well. The only flaw is the primordial scream she lets out on losing her job at a serving station. That is the only false note in her entire performance. Sam Worthington plays Joe, the only character in the film who truly understands her, while dealing with demons and anxieties all his own. Sam delivers a subtle, noteworthy performance. Not perfect and a tad too arty in places, "Somersault" should nevertheless be the basis for more Australian pictures.
Cassandra Maples
Super Reviewer
½
Wow, rly flix? That it? And here I am...obviously alone in thinking this was just bloody brilliant. JBit, thanks again...Australian film gets another thumbs up yet again. Although the last one I watched could have been better. This is rather an intriguing story of a girl that is pretty much trying to find a place to belong...and who steps in the wrong path to find what it is she is looking for. Heidi is a young girl who lives with her mom and her mom's boyfriend who doesn't seem to do much else then hang around the house all day and drink his face off. One day, her mother leaves for work suggesting for her daughter to take the bus. This leads to an intimate moment with her mother's boyfriend, lots of yelling and then leads to Heidi's running away to a little ski town. She leaves to this sleepy little town in hopes of getting a job from a vague offer that doesn't really seem to work out. Lost, confused, with no place to stay Heidi finds the first person who could take her home per se. Him and his friends have to take off the next morning and when she asks if she could come with them, she learns that already has a girlfriend at home waiting for him. Heidi leaves, disappointed and depressed with only a few of her personal possessions for company. There, she meets Joe who seems nice enough and after being persistant enough he brings her to a motel and then leaves her in the morning. Time goes on and he doesn't call her, or come by. She works out a deal with the motel's owner and is allowed to stay one night and pay rent the next day. She goes out to look for a job and almost comes up empty, until she finds a spot at the gas station. One day, Joe comes in and leaves promptly...but after finishing work he meets her finally. Heidi works, she becomes friends with Bianca (the other girl at the register) and sees Joe occasionally. She seems to wear his heart on her sleeve and he seems extremely distant not sharing anything about himself. They each try to deal with their problems, both completely dysfunctional individuals. Apart, of course. One who wants to be with the other and doesn't know how to be alone...and the other who doesn't want to get to close, afraid to. Although he'll never admit it. Things occur, to both of them. Mistakes are made, and they spiral outwards and then back together again. In a way that both learn from their mistakes in a way enough for them both to move on. Guess it's not for everyone, but I really enjoyed this movie. Especially the cinematography. Heidi seems to find the beauty in small things; a pair of red gloves, glitter on a birthday card, looking through purple goggle lenses, dead leaves swishing about from the steps. And, Joe looking through the window through the glass of a red goblet. They both seem so similar, yet are afraid to admit it. And are so fragile as they literally go through the process what is called 'growing up'. Be it metaphorical or not. Just a lovely film, altogether. :]
Bannan instant enigma- just add water
Super Reviewer
This is the story of a young girl who escapes home after her mum caught her making out with her (mum's) boyfriend and her struggle to build her own life in a new town, finding a job, a boyfriend, etc. This Australian film differs from others with similar topics by never taking the drama too far. While there are several moments in which things could have gone horribly wrong for Heidi, and we get a glimpse at how vulnerable and insecure she is, not everything's lost for her yet. It's Abbie Cornish's great acting that makes her character believable even throughout her very questionable decisions, while she is confusing sex with love. There are quite a few really charming scenes, in which the nice soundtrack and the images of her wandering around looking at things create very intimate and unique moments, but one would have hoped for more of those. Additionally, a few scenes, like the meetings between her love interest and his gay neighbor feel kinda pointless. Still, the atmosphere and the acting keep the film interesting and the ending is actually kinda sweet. Not bad.
Somersault Quotes
There are no approved quotes yet for this movie.