Something New
(2006)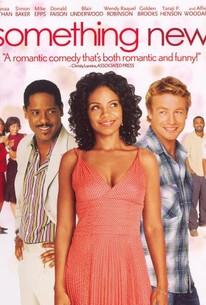 TOMATOMETER
AUDIENCE SCORE
Critic Consensus: Something New tackles serious questions about race and interracial relationships with genuine appeal and an alluring romance that develops as naturally as the plot.
Movie Info
If love is an adventure, it's one yet to be embarked upon by Kenya Denise McQueen. A beautiful L.A. career woman, Kenya works as a senior manager at a prestigious accounting firm, and is on the verge of making partner. But she has yet to find her own partner and a fulfilling personal life. It's not that she's stopped looking; her (mental) checklist is at the ready. After another Valentine's Day spent working late, Kenya agrees to a blind date with Brian Kelly, a sexy and free-spirited landscape architect who turns out to be not exactly what she'd pictured for herself. Then again, she does need the yard of her new house fixed up. Her girlfriends Cheryl, Suzzette, and Nedra are there for her with advice, while Cheryl's new beau Walter shares a male perspective with Brian. Kenya's socially prominent parents Joyce and Edmond and womanizing younger brother Nelson also voice their own opinions. But it's when her perfect match, Mark, enters the picture that Kenya is truly thrown into confusion. Ultimately, Kenya has to decide for herself and follow her heart -- no matter where it takes her.
Critic Reviews for Something New
Audience Reviews for Something New
½
I was pleasantly surprised at how good this movie actually was. I love Sanaa Lathan and Simon Baker is a really great looking new-comer.
½
I ran across this the other night. When I realized Sanaa Lathan was in it, I stopped right there. Three comments:
1.Believe it or not, that scar the Predator gave her is gone. Plastic surgery perhaps? Kind of disappointing. I loved that scar. At any rate, these days she's given up her space career for the law. Boo, Sanaa, I would never give up being an astronaut for anything, and especially not for a career in law.
2. I am now 100% sure that I'm 100% in love with Sanaa Lathan (technically 25% given that I have to split my love percentage equally among her, Janeane Garofalo, Kate Winslet, and Jessica Alba ). Hey. Wait a second. This is my fairytale, so I say there can be 400% of something. I'm definitely 100% in love with each of the four.
Simon Sucking Baker, you are the man! You are one lucky lucky guy, my friend. First she's your blind date -- sorry that didn't go too well -- and then she needs a landscape architect, and you're a landscape architect! What are the chances, dude?
Sanaa, if you read this and are interested, please drop me a line on my talk board. I know it says "Make a comment about," but what they really mean is "Make a comment to (and leave your cell number)."
3. This is almost -- almost -- a wee bit too much of a fairytale for me. I don't think I've seen this many rich people together in one place since Titanic -- which was quite a fairytale in and of itself. Still, the love angle is very sweet, and hopefully it will lead to my marrying Ms. Lathan in the very near future. Although I'd rather be married to an astronaut than a lawyer. To make my fairytale come true, I know if Sanaa Lathan really loved me, she'd go back to being an astronaut and make a sequel to AVP: Alien vs. Predator : )
Lanning : )
Super Reviewer
Thought you should know. Was a 2-days-ago development, and I was going to leave tonight. Thanks, corporate languor! (airplane movies to and from Chicago)
Neum Daddy
Super Reviewer
Something New Quotes
There are no approved quotes yet for this movie.