Something Wicked This Way Comes
(1983)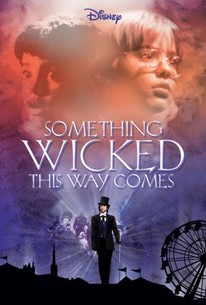 Something Wicked This Way Comes Photos
Movie Info
After a carnival comes to Green Town, the good citizens are compelled to follow their deepest desires, caught under the spell of the malevolent Dr. Dark (Jonathan Pryce) who can grant those desires on one condition: that the grantees will forever join his freak show. Dr. Dark is after two young boys from the town in particular, while others in the town would certainly be easy marks. The sour-faced, older schoolteacher (Mary Grace Canfield) wants to be a seductive young woman, Ed the bartender (James Stacy) would like to regain his lost left arm and leg, and the librarian (Jason Robards) worries about a wasted life spent only in books. As Dr. Dark works his own brand of voodoo, the citizens and the two boys -- as well as the whole carnival itself -- approach a final reckoning. Something Wicked This Way Comes was based on a Ray Bradbury novel.
Critic Reviews for Something Wicked This Way Comes
Audience Reviews for Something Wicked This Way Comes
In the age of slasher horror and torture porn this tale of a traveling carnival that's trade is misfortune seems light, but still is resonant for it's moral lessons. Perhaps the best Ray Bradbury tale on film, all ominous and creepy, and better meant for adolescents.
Kevin M. Williams
Super Reviewer
½
I'm sure Something Wicked This Way Comes would have worked on me had I seen it at the proper age, but unfortunately I didn't. The film isn't altogether a mess. It's directed by Jack Clayton, has a score from James Horner, and features both Pam Grier and Jonathan Pryce in leading roles. What's not to love? Well it has a couple of annoying child actors in it for starters. Second, the meat of the story doesn't kick in until toward the end of the second act. It definitely gets dark, but not quite as wicked as its title promises. It feels more family-friendly than anything, and I think that's its major weakness. It has plenty going for it, but not enough for something really memorable or captivating. Worth a rent, but not much else I'm afraid.
Tim Salmons
Super Reviewer
Cute movie in the company of "The Lady in White" and "Stand By Me". Buddies deal with a mysterious carnival that visits town. I was expecting a little more wicked... but it is more family friendly than horror.
Thomas Johnston
Super Reviewer
Something Wicked This Way Comes Quotes
There are no approved quotes yet for this movie.