Sometimes They Come Back
(1991)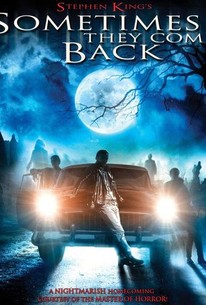 TOMATOMETER
AUDIENCE SCORE
Critic Consensus: Tim Matheson's gripping performance and a strong mood make Sometimes They Come Back an effective, if not wholly revelatory, Stephen King adaptation.
Sometimes They Come Back Photos
Movie Info
A hapless high-school teacher is haunted by the ghosts of the three teenage punks who killed his brother.
Critic Reviews for Sometimes They Come Back
Audience Reviews for Sometimes They Come Back
½
Vinnie Vincent: You always wanted to be like your brother didn't you Jimmy? Richard Lawson: Dead.  David North: VERY dead.  If PBS attempted to make a horror film, it would come out a lot like Sometimes They Come Back. This movie was pretty much torture to watch. Okay it is a made for tv movie, but I don't care; at least make it somewhat enjoyable. I don't like to call movies corny because it's an overused statement, but damn is this movie corny.  The flashbacks that Jim has of him and his brother are simultaneously embarrassing to watch and hilarious. The dialogue is just so fake between them. As for the rest of the movie, it isn't as bad as the flashbacks, but still horrible. I haven't read the short story by Stephen King, but I highly doubt that this captured it like he wrote it.  The movie has a lot of King elements that he uses in so many of his stories. A man comes back to a town where he lived as a child like in Salem's Lot and Dolores Claiborne. There's a gang of hoodlums that tormented him and his brother as kids like in IT and Stand By Me. The whole plot is about overcoming something from the past that is effecting you presently and if you don't deal without it forever. I guess by those plot details, it reminds me most of IT.  Sometimes They Come Back is down there with the worst of the King adaptions that I have seen. Not quite to the level of Dreamcatcher, but still almost unwatchable. The cast is bad, especially the actress who plays his wife; I'd write her name, but honestly I don't care enough to even look at the credits.
Melvin White
Super Reviewer
½
An instant classic. One of the greatest horror movies ever made and the greatest Stephen King adaptation ever. A terifying, riveting and mind-blwoing rollar-coaster ride of a thrill-machine.
½
This film is a classic 'Stephen King' film. The scenes from this film I mostly enjoyed was Jimmy Normans flashbacks from his childhood memories 27 years before as well as very cool and brutal Nick Sadler (Vinnie Vincent) and Richard Lawson(Robert Rusler) while slaying Jimmys students one by one until they got they're own personal revenge on Jimmy for when they were killed 27 years before. A performance well done! What I liked about this film was the grimness/ darkness of the movie, which brings a shiver in my skin every time I watch it. This feeling brings upon me a sense of realism, as though what happened to Jimmy Norman as a child when his brother was murdered by the 4 gangsters and when they came back to haunt him years later has actually happened in real life; Which is amazing because all this would never happen in real life, other than the part when Jimmys brother was murdered. I found this film both scary and humorous (in one) for there were scenes that I didn't know whether to laugh at or scream at (ie. when the 3 gangsters turned into burnt corpses in their car just before they killed Chip Conway/ and the way Billy Sterns body was positioned and the way his face looked when he fell off his bike and landed in the ditch under the bridge. If you haven't seen this film, I suggest you should, as you'll be laughing and screaming all the way through it.
Cassandra Maples
Super Reviewer
Sometimes They Come Back Quotes
There are no approved quotes yet for this movie.