Son-in-Law
(1993)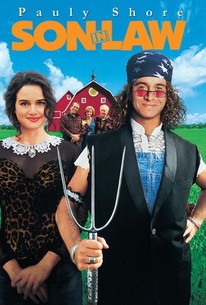 Movie Info
Meaning to thwart the advances of a hometown boy, a college student takes her California surfer roomie to her Midwestern home for Thanksgiving and passes him off as her husband-to-be. After a few complications, the visiting couple falls for each other, the family finally accepts him and the suitor-hopeful is no longer a threat. Pauly Shore and Carla Gugino star in this light comedy.
News & Interviews for Son-in-Law
Critic Reviews for Son-in-Law
Audience Reviews for Son-in-Law
Son In Law is Pauly Shore's best film, and thats not saying much. The film for me is a guilty pleasure. I found the film quite humourous and actually pretty decent. After this film, Pauly Shore really became unbearable, and he faded into obscurity. However theres an appeal to this film that makes it pretty decent. Of course the film is not the best, but theres laughs to be had here and Shore manages to be pretty funny (a rare thing, I know) Theres only two films of Shores that I like this one and Encino Man, and I'd say there the only of his films worth checking out. Don't even bother with In The Army Now, Bio Dome and Jury Duty, All crap! But Son In Law isn't too bad. For a Pauly Shore film its pretty decent and manages to bring on laughs. Mainly due to the other cast members starring alongside Pauly Shore. The film is of course eneven, but it does manage to succeed where other Pauly Shore films have failed, make you laugh. After Son In Law, Pauly Shore really became repetitive in his comedy delivery and became unfunny very fast. But I have a soft spot for Son in Law, it's not a perfect comedy by any means, but it manages to make you laugh a few times without being too irritating. This along with Encino Man are Pauly Shore's more watchable films. After Son in Law, he became an irritating bore.
Pauly Shore was all over the early 90's with his cheap laugh movies, always playing a burn out. Some laughs here and there, Ferris Bueller's mom looks good in this movie surprisingly.
Lenny Muggsy
Super Reviewer
Son-in-Law Quotes
There are no approved quotes yet for this movie.