Son of Dracula
(1943)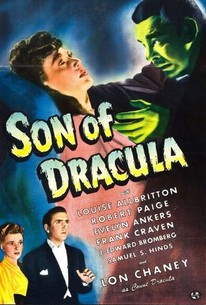 Movie Info
Son of Dracula represents a felicitious creative collaboration between director Robert Siodmak and his screenwriter-brother Curt. The story is set in the American south, where the mysterious Count Alucard (Lon Chaney Jr.) has recently taken up residence. Katherine Caldwell (Louise Allbritton), a student of the occult, is fascinated by Alucard, so much so that she agrees to become his wife. But when Katherine begins to look and act strangely, her former suitor Frank Stanley (Robert Paige) suspects that something's amiss. Assisted by town doctor Brewster (Frank Craven) and psychologist Laszlo (J. Edward Bromberg), Frank comes to the inescapable conclusion that Count Alucard is actually the dreaded vampire Count Dracula's offspring (this much he might have figured out simply by spelling the man's name backward!) To prevent Dracula from spreading his influence throughout America, Frank and his confreres race against time to destroy the count and, hopefully, rescue poor Katherine.
News & Interviews for Son of Dracula
Critic Reviews for Son of Dracula
Audience Reviews for Son of Dracula
I don't remember if anyone in this movie was actually the son of Dracula (from the first movie with Bela Lugosi), but this movie is entertaining and I enjoyed it.
Lon Chaney plays Dracula just because he's Lon Chaney in this film about Count Dracula's quest for real estate in the USA. Chaney plays Count Alucard (yes, spell it backwards) who ends up hooking up with a '40's version of a goth chick. Hilarity ensues when she becomes one of the undead because she wants to spend eternity with her true love. Yes, the film and the plot are as stupid as they sound.
Chris Garman
Super Reviewer
Very nice story. The horror aspects of it are played down, even for a classic of its time, but the story is so intriguing with a great payoff that it's well a worth a watch.
Tim Salmons
Super Reviewer
Son of Dracula Quotes
There are no approved quotes yet for this movie.