Son of Flubber
(1963)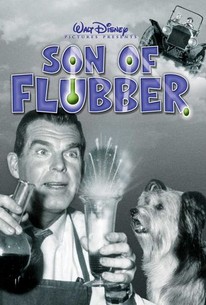 Movie Info
Son Of Flubber is the first big screen sequel attempted by Walt Disney productions. Professor Ned Brainard (Fred MacMurray) has come up with a new invention called "dry rain." A gun-like devise creates a rain cloud at the desired target. The one drawback is that the gun shatters every piece of glass in the immediate area. Brainard's faithful assistant Biff Hawk (Tommy Kirk) develops a by-product of flubber called flubbergas. Instead of the basketball team as in it's film predecessor, the football team is aided by the new invention to help them win the big game. The Professor faces the judge in court over the damage his dry rain gun leaves in the wake of it's use. The dark storm clouds of justice loom ominously over the inventor before a country agricultural agent produces giant vegetables that prove the value of the rain gun. Virtually the same cast appears in this film as appeared in "The Absent Minded Professor." The Disney sequel brought in over 9 million dollars in the initial release. It didn't take a college professor to prove the numbers added up quite well.
Critic Reviews for Son of Flubber
Audience Reviews for Son of Flubber
There's no sons in this film, but it's still a great sequel.
Marcus Woolcott
Super Reviewer
½
The original was better but still a funny early Ealingesq movie.
Barry Lappin
Super Reviewer
Son of Flubber Quotes
| | |
| --- | --- |
| Biff Hawk: | Pop's the biggest loan shark in the state, and he's proud of it. |
| Biff Hawk: | Pop's the biggest loan shark in the state and he's proud of it. |
| Prof. Ned Brainard: | Let's just say your father is a very shrewd businessman. |
| Biff Hawk: | Shrewd!? The only time my pop ever got the worst of a bargain was when he got me. I just didn't turn out the way he wanted me to at all. |
| Biff Hawk: | Shrewd! The only time my pop ever got the worst of a bargain was when he got me. I just didn't turn out the way he wanted me to at all. |
| | |
| --- | --- |
| Biff Hawk: | Ducks at 12 o'clock, sir. |
| | |
| --- | --- |
| Defense Secretary: | Alright, remember: you're in Washington. Stop trying to be reasonable about money. Or your going to bollix up the whole thing. |
| Defense Secretary: | Alright, remember you're in Washington. Stop trying to be reasonable about money or your going to bollix up the whole thing. |
| | |
| --- | --- |
| Mr. Harker: | We do our part to keep the wheels of democracy rolling; warriors unsung, unknown, misunderstood. |