Son of Frankenstein
(1939)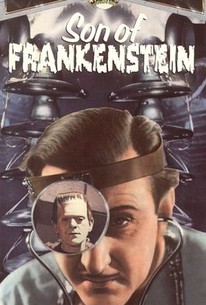 Son of Frankenstein Photos
Movie Info
The most elaborate--and longest--of Universal's Frankenstein series, Son of Frankenstein represents Boris Karloff's last appearance in the role of the Monster. The title character is played by Basil Rathbone, who with wife Josephine Hutchinson and son Donnie Donegan returns to the Old Country to take over his late father's estate. Rathbone receives a cool reception from the local villagers, who remember all too well the havoc wreaked by his father's monstrous creation. Though he assures his neighbors that he has no intention of following in his father's footsteps, Rathbone is hounded by suspicious town constable Lionel Atwill, whose stiff artificial arm is an unfortunate legacy of an earlier confrontation with Karloff. Also hanging around Frankenstein Castle is crazed shepherd Bela Lugosi), whose neck was broken in an unsuccessful hanging attempt. Lugosi wishes to exact revenge on the city fathers who'd tried to execute him, and to that end persuades Rathbone to revive the hideous Karloff. At first resistant, Rathbone becomes as obsessed as his father with the notion of creating artificial life. Now the fun begins, directed with Germanic intensity by Rowland V. Lee. Though Mel Brooks's Young Frankenstein has rendered Son of Frankenstein virtually impossible to take seriously, the film remains an excellent marriage of the slick, sanitized production values of the "New Universal" and the Gothic zeitgeist of the earlier Frankenstein epics. Best line: Lugosi, looking over the dormant body of The Monster, explains raspily that "He does...things...for me." Hans J. Salter's intense musical score for Son of Frankenstein would continue to resurface in Universal's Mummy B pictures of the 1940s. Watch for Ward Bond in a bit part as a police officer...and see if you can spot Dwight Frye, whose supporting part was excised from the final release print, among the villagers.
Critic Reviews for Son of Frankenstein
Audience Reviews for Son of Frankenstein
½
Repeating the sins of the father is an overriding theme in â~Son of Frankensteinâ(TM) and the film doesnâ(TM)t tread lightly around it. Trying to tame and domesticate the inherently feral and wild is a futile enterprise as Wolf Frankenstein (Basil Rathbone) unearths in this rousing, unexpectedly character-driven sequel that doesnâ(TM)t bastardize the films that came before it. Karloff is still an inimitable silent actor since he must gesture and flail to convey the monsterâ(TM)s self-hatred. For example, when the monster is awoken, he stares into the mirror and acts predatory until the tragic revelation that he is looking at his own reflection. However, the film is plundered outright by Bela Lugosiâ(TM)s scenery-chewing as Ygor, Frankensteinâ(TM)s deformed assistant. Lugosi is insidiously creepy and manipulative by using Wolfâ(TM)s scientific curiosity to his revenge agenda. The townspeopleâ(TM)s sudden change-of-heart in the third act is a lazy deus ex machine but otherwise this is a judicious, absorbing rebound for the Universal monster.
Cory Taylor
Super Reviewer
In spite of great casting, without James Whale at the helm the overall result is campy and less artful. Not a horrible film but not in the same league as Whale's Frankenstein or Bride of Frankenstein.
Randy Tippy
Super Reviewer
½
This movie has a fantastic cast, an interesting story, and a classic monster, but it could have been a better movie. Still, I enjoyed it mostly.
Son of Frankenstein Quotes