Son of Godzilla
(1967)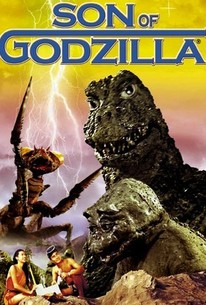 Movie Info
The Japanese gargantuan reptile fathers a son who is a chip off the old eggshell. The men of the family take on oversized mantises and arachnids in this exotic sci-fi adventure. ~ Kristie Hassen, Rovi
Critic Reviews for Son of Godzilla
Audience Reviews for Son of Godzilla
Son of Godzilla strips away everything that set the other films quite memorable, and creates something silly, even by Godzilla standard. This has got to be the most ridiculous premise of a Godzilla film. This is a bland movie that just is dull from beginning to end. The plot is just awful and though the filmmakers tried something different, it just ends up a waste of time. The series by now is hit and miss, and it is a miss with this entry. The effects, which were quite good in past movies, are now pretty bad, and the film tries too hard at being something different and fun, but it simply isn't. I don't even know what the point of the film; this film was crap and lacked anything that made the other films entertaining. In the end, this plays out as a bad straight to DVD feature, even though this trash made it to theatres upon release. I wouldn't have been surprised if this entry would only have aired on TV back in the day. The film's performances are laughable; the dialogue is awful, silly and stupid. Of all Godzilla movies that I have seen, this is among the worst films that I have seen. The plot is far too silly and it is the type of film that will appeal to a much younger crowd. Godzilla films for me anyways were always about monster mayhem and delivering, fun, mindless. However this is just a film that isn't worth your time. I really hated the film, and I quite enjoyed the series up to this point, but with Son of Godzilla, the filmmakers have made one of the most boring movies in the series. Avoid it if you haven't seen it, you're not missing out.
½
funny, entertaining, great effects, and great comedy and action
Michael Edwards
Super Reviewer
You'd think scientists would have learned what caused the first Godzilla, and not have made the same mistakes, but no, they never learn! Anyway, this movie is childish and stupid. Most of the time it was unintentionally funny, though, so I gave it higher rating. Overall, it's okay.
Son of Godzilla Quotes
There are no approved quotes yet for this movie.