Son of Kong
(1933)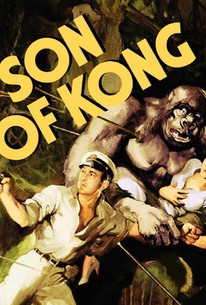 Movie Info
This humorous sequel to King Kong tells of Carl Denham's return to Skull Island in hopes of finding a treasure to pay for the damage inflicted on New York City by the giant gorilla. He and his group instead find a cute, 25-foot-tall, white baby Kong.
Critic Reviews for Son of Kong
Audience Reviews for Son of Kong
½
It's said that writer Ruth Rose knew that King Kong could not be improved on and so went the comic route here, completed and released only nine months after the original. What she does is try to exonerate Denham's character somewhat from the gross capitalist behavior in the first, and add a touch of comedy to the son of the big ape, lessening Pop's scare factor considerably. What's achieved is a lesser affair, sure, but nonetheless familial heritage is clearly seen, which is to say "not bad." Not good, but not entirely bad either.
Kevin M. Williams
Super Reviewer
Horribly ill-conceived, Son of Kong has none of the thrills or amazement that the original had. Trying to stay ahead of a grand jury indictment for the Kong incident, Carl Denham skips town with Capt. Englehorn and heads for the open seas; but the tides soon take him back to Kong's Island when he gets wind of a secret treasure that's hidden there. The script is a real problem and doesn't know where it's going or why half of the time; particularly the ending, which comes out of nowhere. Little Kong is also an issue, as he lacks the fierceness that King Kong had; instead he's played more for laughs. Incredibly disappointing, Son of Kong doesn't deliver any of the excitement or adventure that the first film did.
Dann Michalski
Super Reviewer
½
While it is a completely unnecessary sequel, it is incredibly fun. It's essentially a continuation of the first, but also a regurgitated plot. Carl Denham, The Skipper and Charlie the cook are all back for a second trip to skull island. Only this time, they meet Kong's albino child who is far more compassionate.
Conner Rainwater
Super Reviewer
Son of Kong Quotes
There are no approved quotes yet for this movie.