Son of Rambow
(2007)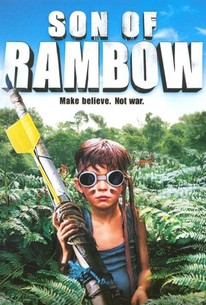 TOMATOMETER
AUDIENCE SCORE
Critic Consensus: Undeniable heart and charming young leads save the film's nostalgic storyline from suffering at the hands predictability.
Movie Info
It all begins in 1980s Britain, when young Will Proudfoot, raised in isolation among The Brethren, a puritanical religious sect in which music and TV are strictly forbidden, encounters something beyond his wildest fantasies: a pirated copy of "Rambo: First Blood." His virgin viewing of the iconic thriller blows his mind--and rapidly expanding imagination--wide open. Now, Will sets out to join forces with the seemingly diabolical school bully, Lee Carter, to make their own action epic, devising wildly creative, on-the-fly stunts, not to mention equally elaborate schemes for creating a movie of total commitment and non-stop thrills while hiding out from The Brethren. But when school popularity finally descends on Will and Lee in the form of the super-cool French exchange student, Didier Revol, their remarkable new friendship and precious film are pushed, quite literally, to the breaking point.
News & Interviews for Son of Rambow
Critic Reviews for Son of Rambow
Audience Reviews for Son of Rambow
Son of Rambow is one of those rare movies that are purely enjoyable due to the fact that it relies on such simple ideas to create its effective, memorable and amusing plot. This is one of those films that just sucks you in right from the get go due to great characters, a fine plot and quirky humor. I wasn't expecting anything great to come out of this film, but I was pleasantly surprised. If you love these types of films, you're sure to enjoy this one, and even if you were skeptical about seeing it, I would recommend it, because it may surprise you at how good it is, just like it did with me. Acting wise, this film has a wonderful cast. Especially in the two leads. Will Poulter and Bill Milner have great on-screen chemistry and it's what make this film so wonderful. Son of Rambow has enough charm and original ideas going for it to make you want to see it again and again. Very enjoyable, fun and memorable, these types of films are what is missing in the comedy genre. I think it's wonderful how once in awhile a film like this surfaces and makes every other comedy that tries to attempt similar things fail. Brilliant, sad and funny, Son of Rambow is great filmmaking, and one of the best comedies that I have seen in quite some time due to its cast, great story and effective directing. If you come across this one, pick it up you'll be glad you did. This is far better than what most people would say about it, and there's plenty great moments to keep you interested from start to finish.
½
Make Believe. Not War. Great movie!!! The Son of Rambow is more than the sum of its parts, its about that old aged fable shown in many kids films, but in a different light, great coming-of-age movies as Christina Ricci's Now and Then (1995), River Phoenix's Stand by Me (1986) to the magic of The Goonies (1985). Son of Rambow is amusing to the point of hilarity, touching to the point of sentimentality and rewarding like a good home movie should be; made well with imagination, wit and determination. SON OF RAMBOW is the name of the home movie made by two little boys with a big video camera and even bigger ambitions. Set on a long English summer in the early 80's, SON OF RAMBOW is a comedy about friendship, faith and the tough business of growing up. We see the story through the eyes of Will, the eldest son of a fatherless Plymouth Brethren family. The Brethren regard themselves as God's 'chosen ones' and their strict moral code means that Will has never been allowed to mix with the other 'worldlies,' listen to music or watch TV, until he finds himself caught up in the extraordinary world of Lee Carter, the school terror and maker of bizarre home movies. Carter exposes Will to a pirate copy of Rambo: First Blood and from that moment Will's mind is blown wide open and he's easily convinced to be the stuntman in Lee Carters' diabolical home movie. Will's imaginative little brain is not only given chance to flourish in the world of film making, but is also very handy when it comes to dreaming up elaborate schemes to keep his partnership with Lee Carter a secret from the Brethren community. Will and Carter's complete disregard for consequences and innocent ambition means that the process of making their film is a glorious rollercoaster that eventually leads to true friendship. They start to make a name for themselves at school as movie makers but when popularity descends on them in the form of the Pied Piper-esque French exchange student, Didier Revol, their unique friendship and their precious film are pushed, quite literally, to breaking point.
½
This charming British comedy tells the story of a religious boy befriending the school bully, who's shooting a film for a competition. After accidentally seeing Rambo-First Blood as the first film of his life, Will is fascinated and enthusiastic to join the project. Set in the 1980s this film is full of nostalgia about that era, the love for film and the worth of friendship. The storytelling is imaginative, the plot bitter sweet and the humor wonderfully disrespectful but with its heart at the right spot. The talented kids actors make it all work and the 80s soundtrack is fun too. A very lovable, funny and sweet experience for children and adults alike.
Son of Rambow Quotes
| | |
| --- | --- |
| Lee Carter: | This has been my best day of all time. |
| | |
| --- | --- |
| Didier: | I will be star of your movie. |
| | |
| --- | --- |
| Will Proudfoot: | I'm not supposed to be friends with you. |
| Will Proudfoot: | I'm not supposed to be your friend. |
| Lee Carter: | What? What's wrong with me? |
| | |
| --- | --- |
| Mary Proudfoot: | Promise me you will put these things out of your mind, William. |
| Mary Proudfoot: | Promise me you'll put these things out of your mind, William. |