Son of Saul
(2015)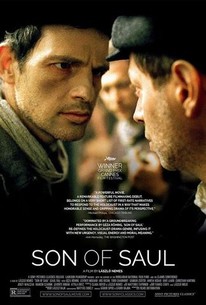 TOMATOMETER
AUDIENCE SCORE
Critic Consensus: Grimly intense yet thoroughly rewarding, Son of Saul offers an unforgettable viewing experience -- and establishes director László Nemes as a talent to watch.
Movie Info
In this searing drama, a concentration camp inmate tasked with burning the dead discovers the body of his young son, and must choose between participating in the clandestine uprising being planned among the prisoners, or securing a proper Jewish burial for his child.
Critic Reviews for Son of Saul
Audience Reviews for Son of Saul
½
A good portrayal of the Holocaust only let down by the lead actor, who shows no emotions at all, even after discovering the dead body of his son.
Peter Bond
Super Reviewer
Even though it is a true lesson in technique and direction, it deserved to have a more interesting protagonist with better motivations. Full review on filmotrope. com
Carlos Magalhães
Super Reviewer
½
Given the theme, Son of Saul is understandably difficult to watch. In many ways it should be. The plot doesn't follow the traditional narrative that highlights an improbable hero. Its hyper-realistic style addresses the murder directly head on with no relief to alleviate the terror. The brutal efficiency with which the Nazis oversee this evil task is a robotic death camp of mind numbing savagery. A seemingly unending hell on earth from which human life is disposed like a mechanized chore. Even watching prisoners scrub the human blood from the floor of an massive shower can be an overwhelming experience. Son of Saul is largely a compelling drama. Where the chronicle doesn't near a masterpiece lies in the conclusion. The fact that Saul and his fellow workers' days are numbered will inspire questions as the story wears on. Why submit to a ghastly task that only prolongs your inevitable death by days? Some abatement from their chamber of horrors is suggested but Saul's behavior becomes vexing for viewer. Setting up a brilliant beginning also demands a skillful ending. Son of Saul doesn't quite deliver at the same level all the way through, but it is still a very powerful film nonetheless. fastfilmreviews.com
Mark Hobin
Super Reviewer