Song of the South
(1946)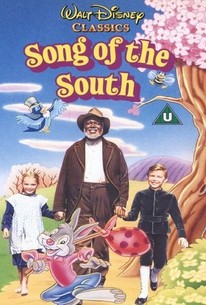 Movie Info
Song of the South is a blend of live action and animation, based on the popular "Uncle Remus" stories of Joel Chandler Harris. Set in the years just after the Civil War, the story begins with young Johnny (Bobby Driscoll) being sent to live at the southern plantation of his grandmother (Lucile Watson) while his parents contemplate divorce. At first disconsolate, the boy is cheered up by African-American handyman Uncle Remus (James Baskett), who tells him many delightful fables concerning the clever trickster Br'er Rabbit, whose adventures are illustrated in cartoon form. Each story has a moral, which Johnny applies to the exigencies of his real life. Johnny's mother (Ruth Warrick) disapproves of Uncle Remus, and orders the boy never to visit the kindly old black man again. Uncle Remus packs his bags and leaves; while chasing after him, Johnny is injured by a bull. He recovers thanks to the friendly presence of Uncle Remus, and all is forgiven. The film was awarded the Best Song Oscar for "Zip-a-dee Doo Dah," and James Baskett won a special Oscar for his portrayal of Uncle Remus. Disney has withheld the movie in the U.S. ever since its last theatrical re-release in 1986, due to controversy over what some (including the NAACP) argue is a sugar-coated depiction of the Reconstruction-era South. ~ Hal Erickson, Rovi
Critic Reviews for Song of the South
Audience Reviews for Song of the South
½
Considering the reputation this film holds, I compliment it with revealing that it's not as racist as one expects. Oh, there's no disputing that the insensitivity of the Disney Corporation in making this film wasn't apparent, just that it couldn't possibly be worse than anyone could expect. Based on the tales of Uncle Remus, the logic behind making this film is apparent: a folksy old man tells tales of hilarity to a socially disadvantaged youth. In simple terms, this is cute and kitschy as any other Disney live action film, but making it about slavery in the Antebellum South and adding in the cute as it went along made for a confusing and racially deplorable film watching experience. There is so much wrong in this film: the slave/master relationship is not a dramatic and abusive toil, but a pleasant exchange. There's even a scene where the Uncle Remus goes against his mistresses' orders and asks if she's mad at him, to which she replies, "I could never be mad at you, you old coot!" Because we all know slave owners were respectable and understanding folks. Another incredulous moment came when Uncle Remus leaves the plantation forever and while the misguided boy runs after him, the owner sadly watches it all happen. The live action, overall, was disgusting. As for the cartoons incorporated, they weren't all that spectacular, and the animal characters could easily have been copy/pasted from Robin Hood, but with worse quality and voice actors who were obviously portraying stereotypical black characters. Worse was a sequence one can only title "Tar Baby" which made me flinch all the way through. It hurt to see, and I only gave as many stars as I did for the one redeeming value, "Zip-A-Dee-Doo-Dah," a mellifluous song that Disney can claim credit for.
Spencer S.
Super Reviewer
As this film was meant for children, and seeing as how I'm an adult AND a history graduate student, it was really hard for me to watch this film objectively. Anything related to racism, hurt stereotypes, and the like, can be attirbuted to when this film was released, and the time period it depicts. Regardles though, it's still pretty dated by modern standards, but any "offensiveness" is purely relative. The story is well intended, and fun, and filled with fantasy, but that's the problem. This film is segregation through the eyes of Disney, meaning that it is not only watered down, but candy coated in the extreme. If this movie is to be considered offensive, then it would be on the grounds that it totally fucks up how it portrays history due to the agenda of the filmmakers. I can only tolerate such a thing for so long. I enjoyed the film, for the most part, but it was hard for me to care really about everything. I did like the blending of animation and live action though. If I'm not mistaken, this was one of, if not the earliest, film to blend the two, so in that regard, it has some merit, but as I said, even though I should just shut up and enjoy, it's really hard to do that when you spent most of your time in classes where they teach you to scrutinize.
Chris Weber
Super Reviewer
Wonderful Disney classic that has become hard to find due to the contemptible specter of political correctness.
Randy Tippy
Super Reviewer
Song of the South Quotes
There are no approved quotes yet for this movie.