Song to Song
(2017)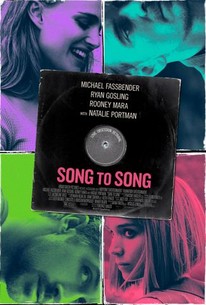 TOMATOMETER
AUDIENCE SCORE
Critic Consensus: As visually sumptuous as it is narratively spartan, Terrence Malick's Song to Song echoes elements of the writer-director's recent work -- for better and for worse.
Movie Info
In this modern love story set against the Austin, Texas music scene, two entangled couples--struggling songwriters Faye (Rooney Mara) and BV (Ryan Gosling), and music mogul Cook (Michael Fassbender) and the waitress whom he ensnares (Natalie Portman)--chase success through a rock 'n' roll landscape of seduction and betrayal.
News & Interviews for Song to Song
Critic Reviews for Song to Song
Audience Reviews for Song to Song
½
Malick still has the visual touch but like To The Wonder, this is too self indulgent that weakens what is a mess of storytelling. The magic of the camera never fails to impress but the cast and storyline doesn't come together, I find myself falling away from Malicks films because of the disconnection he seems to have with the story of the film. I'm going to revisit all the films in his filmography because I have fond memories of the first three films he directed. I have found his last few films haven't connected with critics or moviegoers alike, even if his films aren't critically loved surely the audience rating should be bigger. The characters float through the film and we don't learn all that much from them, the slight narration helps but like To The Wonder, it doesn't help flesh out a poor storyline. 12-08-2017
Brendan O'Connor
Super Reviewer
½
"This is so stupid", I heard whispered by the last remaining audience member besides me as he got up and walked out of the theater. It's hard to imagine that if he had watched the final 30 minutes of "Song to Song" that he would redact his sentiment. If it was director Terrence Malick's hope to completely cull the already small demographic of people interested in his movies, he has succeeded as far as I can tell. Continuing the fractured, flailing, voice-over laden video collage approach of his last decade's worth of films, "Song to Song" follows Rooney Mara and everyone tangentially related to her romantically while they traverse the Austin music industry. Rooney wears wigs, acts like she can play guitar, talks to Patti Smith, and wanders from lover to lover - chief of whom are Ryan Gosling and Michael Fassbender. Nearly everyone in the film is a pretty hipster, and they all express their love to each other through fidgeting and frolicking around really nice houses and apartments. If you ditch the spiritual subtext of "Knight of Cups" and add more dialogue about relationships, that's this movie in a nutshell. The musical aspect of the film is integral, but glossed over, like a mega mix of the entire South by Southwest festival line-up - literally. If all of this sounds bad to you, by all means, don't watch this film. I can't in good conscience recommend this to anyone but film students. For anyone who can stomach the watch, you are treated to the transient nature of love with all of its triumphs and tribulations, and if you like Malick's "The Tree of Life", you might not hate this.
K Nife Churchkey
Super Reviewer
Song to Song Quotes
There are no approved quotes yet for this movie.