The Sons of Katie Elder
(1965)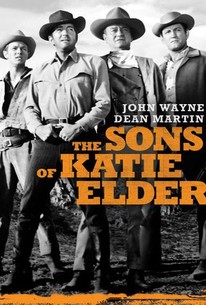 The Sons of Katie Elder Photos
Movie Info
Henry Hathaway directs the 1965 psychological Western The Sons of Katie Elder. Four sons reunite in their Texas hometown to attend their mother's funeral. John (John Wayne) is the gunfighter, Tom (Dean Martin) is the gambler, Matt (Earl Holliman) is the quiet one, and Bud (Michael Anderson Jr.) is the youngest. They soon learn that their father gambled away the family ranch, leading to his own murder. The brothers decide to find their father's killer and get back the ranch, even though they are discouraged to do so by local Sheriff Billy Wilson (Paul Fix). When the sheriff turns up dead, the Elder boys are blamed for the murder. Deputy Sheriff Ben Latta (Jeremy Slate) joins forces with the only witnesses of the murder: Morgan Hastings (James Gregory) and his son Dave (Dennis Hopper). A gunfight breaks out between the Hastings gang and the Elder gang. After his brother Matt is killed, John decides to settle the ranch dispute in a court of law with a judge (Sheldon Allman). However, Tom decides to take matters into his own hands by kidnapping Dave. After the final climactic gunfight, John and the wounded Bud retreat to a rooming house owned by Mary Gordon (Martha Hyer). ~ Andrea LeVasseur, Rovi
Critic Reviews for The Sons of Katie Elder
Audience Reviews for The Sons of Katie Elder
40 years before John SIngleton loosely adapted it to a modern urban setting, Henry Hathaway delivered a story about 4 estranged brothers who reunite after a long period of absence to attend the funeral of their beloved mother. While in town, they learn of shady business considering their late mother's ranch, as well as the murder of their father a few years prior. Unwilling to live and let live, the four set out to make things right, the only way they know how: forcefully. Even though I did find things to like about this movie, in the end, I feel like it's really not all that special, and basically just a routine John Wayne movie. There's nothing really wrong with that, but he did so many films like this that it basically just ends up as something rather unremarkable. It's a bit shaky and uneven, a tad overlong, and even a touch boring at times, and, Elmer Bernstein's score sounds too similar to his work for The Magnificent Seven for my liking, but, John Wayne and Dean Martin do serviceable work as the two oldest Elder brothers, and they have good chemistry with one another, so that helps. A young Dennis Hopper also appears, which is cool, too. The film is decently well shot, and does have it's occasional rousing moments, but in the end, I personally prefer John Singleton's Four Brothers. It's glossier, more entertaining, and more compelling.
Chris Weber
Super Reviewer
Dean Martin as The Duke's brother?!? Admit it ... it's not the first casting choice anyone would make, but Dino finds his way in this tale of 4 wayward brothers who come home to try to make things right by Ma even if it kills them. Stay with it because it builds momentum after a slow start.
Kevin M. Williams
Super Reviewer
½
The Sons of Katie Elder starts off strong, but as it nears the end of the first hour, the plot begins to meander away from its strongpoints. John Wayne, Dean Martin, Michael Anderson Jr. and Earl Holliman are four brothers returning to town for their mother's funeral. John, the eldest, is a gun-slinger who's greeted rather coldly by the town's sheriff. Actually, all four of the brothers are greeted cooly by the entire town, as their mother was one of the town's most beloved citizens and it's obvious her sons weren't there to take care of her in her time of need. The boys do some investigation and find out their mother was in hard financial straits: their father lost the family ranch in a card game and then died, leaving their mother up the proverbial creek. As the boys do some more investigation, they find more to the story than originally suggested (this angle is similar to that of "Bad Day at Black Rock"). Rather than fully solve the mystery of their parents demise, the boys decide that a fitting memorial to their mother would be to put the youngest brother through college (whether he wants to or not). From here, the plot goes downhill as convenient plot devices lead to coincidences that favor the bad guys every time. It's not a horrible film though, just disappointing.
Devon Bott
Super Reviewer
The Sons of Katie Elder Quotes
There are no approved quotes yet for this movie.