Sophie Scholl: The Final Days
(2006)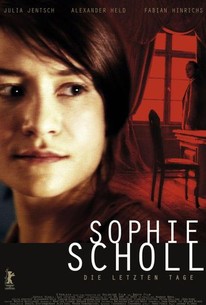 TOMATOMETER
AUDIENCE SCORE
Critic Consensus: A film that begs the audience to reflect upon their own courage and strength of character in light of this young heroine's daring story.
Sophie Scholl: The Final Days Photos
Movie Info
Filmmaker Marc Rothemund utilizes long-buried historical records to reconstruct the last six days in the life of renowned German anti-Nazi activist Sophie Scholl (Julia Jentsch) in an Academy Award-nominated feature that earned star Julia Jentsch a Best Actress award at both the 2005 Lolas and the 2005 Berlin International Film Festival. The year is 1943 and Adolf Hitler's devastating march across Europe has resulted in the formation of the White Rose, an underground resistance movement born in Munich and dedicated to the fall of the Third Reich. Despite being one of the only female members in the White Rose movement, Sophie Scholl's conviction is strong and her will unbreakable. Eventually arrested by the Gestapo for distributing pamphlets on campus alongside her brother Hans, Sophie boldly maintains her ground by calling for freedom and personal responsibility and never once backing down even in the face of certain, inescapable death. ~ Jason Buchanan, Rovi
Critic Reviews for Sophie Scholl: The Final Days
Audience Reviews for Sophie Scholl: The Final Days
"Sophie Scholl" is a fine German film. Although it is focused on the hunt for, trial and execution of "White Rose" members in Nazi Germany, it is not so much about heroic opposition to Nazism, per se. The film is really about the loss of civil rights for ordinary (non-Jewish) German citizens, an eviscerated rule of law, and the general disintegration of the judicial system in Nazi Germany. This film is a real eye-opener and it is chilling to know much of the story was taken from actual transcripts. Cinematography, sets/locations, costumes and direction are all good. Sound editing was not impressive. Acting was very good. This film is definitely worth seeing.
Christian C
Super Reviewer
½
Brilliant drama on the last years of Sophie Scholl, who was part of a non violent resistance groupe in Nazi Germany. This is a highly engaging film, one that boasts some terrific performances are a well crafted storyline. Based on a real story Sophie Scholl is a standout film that recounts hope in a time of great adversity and it's also a story of good in the face of evil, and how its lead characters were prepared to die for their beliefs. The real story Of Sophie Scholl is absolutely phenomenal, it's a testament of courage and doing what was right despite threats of being tortured and imprisoned. If you enjoy well crafted real life dramas, then I highly recommend Sophie Scholl, which one of the finest foreign films that I have seen in quite some time. Here the performances and story are very good, and while using basic elements, the filmmakers were able to get something truly unique on-screen. This is a riveting drama that is highly captivating, entertaining from start to finish. The actress portraying Sophie Scholl was really the one that stood out for me, and she was well chosen for the part. I felt she brought a certain defiant innocence to her that made the character stand out significantly. As a war themed drama, this is superbly well done, and it's sure to appeal to genre fans looking for something truly thought provoking and highly engaging throughout. The story of Sophie Scholl is that of courage and adversity in the face of great danger, and she spoke out against tyranny when everyone else fell silent, and that's one of the film's most memorable messages. As a biopic, this one is a must watch for genre fans, and to anyone looking for a fine piece of history.
½
Germans who stood up for Jews... Sounds too poetic? No, it 's nothing but truly heroic!
Eliza Norton
Super Reviewer
Sophie Scholl: The Final Days Quotes
There are no approved quotes yet for this movie.