The Sorcerers
(1967)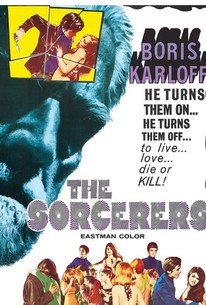 Movie Info
A well-meaning and gentle inventor creates a machine capable of allowing one person to completely control the mind of another, but before he can market it, he must test it. A volunteer comes forth and the experiment begins. All goes well until the inventor's jealous, angry wife intervenes and takes over the subject. She uses the hapless fellow for her own pleasure and to do her bidding. As time passes, she becomes increasingly cruel to him. The inventor finds himself powerless to stop his wife and this prompts him to take desperate measures to stop her.
Critic Reviews for The Sorcerers
Audience Reviews for The Sorcerers
½
An entertaining 60s British horror set in swinging London. Boris Karloff, in one of his last roles, plays Professor Montserrat who has developed a new technique of mind control and now only needs a bored young man to test it on. Enter Mike Roscoe, played by Ian Ogilvy. After the Professor and his wife hook Mike up to their machine and conduct some psychedelic experiments they have the power to control the young man's mind and to experience his sensations. But whilst the Professor wants to use their new power for good his wife becomes more and more obsessed with their power and the sensations it provides and the whole thing goes out of control. Karloff gives a good performance, and there are some "groovy" nightclub scenes plus a small role for Susan George. Overall low budget but extremely watchable.
The Sorcerers Quotes
There are no approved quotes yet for this movie.