Sorry to Bother You
(2018)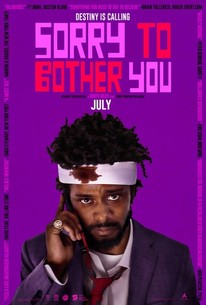 TOMATOMETER
AUDIENCE SCORE
Critic Consensus: Fearlessly ambitious, scathingly funny, and thoroughly original, Sorry to Bother You loudly heralds the arrival of a fresh filmmaking talent in writer-director Boots Riley.
Sorry to Bother You Videos
Sorry to Bother You Photos
Movie Info
In an alternate present-day version of Oakland, black telemarketer Cassius Green (Lakeith Stanfield) discovers a magical key to professional success, which propels him into a macabre universe of "powercalling" that leads to material glory. But the upswing in Cassius' career raises serious red flags with his girlfriend Detroit (Tessa Thompson), a performance artist and minimum-wage striver who's secretly part of a Banksy-style activist collective. As his friends and co-workers organize in protest of corporate oppression, Cassius falls under the spell of his company's cocaine-snorting CEO Steve Lift (Armie Hammer), who offers him a salary beyond his wildest dreams.
News & Interviews for Sorry to Bother You
Critic Reviews for Sorry to Bother You
Audience Reviews for Sorry to Bother You
½
The trailers to this movie led me to believe it would be sort of a dark comedy with some social commentary, and yeah, that's definitely part of it, but damn is that only PART of it. This movie is godamn wild, and it takes several turns (especially in it's final act) that you're either going to go with or going to be incredibly turned off by. Personally, I was surprisingly willing to be along for the ride. There's an anarchic energy to the whole movie that never ends even in it's most banal moments so that even when it truly goes bonkers, it never seemed too out of the ordinary to the films world for me. It's so wildly original too, that I genuinely had no idea where it was going to go, and my predictions were usually wrong. It doesn't all work, some of it hits the nail on the head a little too hard and some moments (especially the final moments, literally the last seconds of the film) seem more for shock value than anything else, but it's more hits than misses. It's probably going to be divisive movie, but for me I was surprisingly with it.
Michael Malan
Super Reviewer
½
Although the sharp sense of humor is only one step away from being laugh-out-loud hilarious, this is a smart absurdist satire on conformism and modern alienation that couldn't feel more realistic even as it confidently moves towards surrealism in ways that are quite unexpected.
Carlos Magalhães
Super Reviewer
½
Two African-American filmmakers, one making his debut and another in his fourth decade of popular storytelling, have produced two of the most uncompromising, entertaining, provocative, and exacting and relevant movies of this year. Boots Riley's absurdly comic indie Sorry to Bother You was a festival smash, and Spike Lee's BlackkKlansman is being positioned as a summer breakout. Audiences have often looked to the movies as an escape from the woes of our world, and when the news is non-stop catastrophic woe, that's even more apparent. However, both of these movies, while enormously entertaining and charged with fresh relevancy, are a reminder of the very social ills many may actively try to avoid. Both films, and their respective filmmakers, make cases why ignorance is a privilege we cannot afford. Also, did I mention that the movies are outstanding, daring, and hilarious? Sorry to Bother You is also sharply cutting and topical about being black in America. In present-day Oakland, Cassius "Cash" Green (Lakeith Stanfield) is struggling to make ends meet, move out of his uncle's garage, and do right by his girlfriend and performance artist, Detroit (Tessa Thompson). He gets a job at a telemarketer and discovers a new talent when he turns on his "white voice" (voiced by David Cross) and becomes a power caller, crushing his competition. He moves his way up the chain, losing touch with his base of working-class friends looking to strike to unionize. Once at the top, Cash draws the attention of the CEO, Steve Lift (Armie Hammer), who has big plans for a man with Cash's gifts and seeming flexibility when it comes to corporate moral relativism. Sorry to Bother You is a wild, hilarious movie bursting with things to say with its shotgun approach to satire, or as my pal Ben Bailey termed, a blunderbuss approach, messy and all over the place and, sometimes, maybe missing its intended mark. I thought the movie was simply going to be about the modern-day struggles of being black and poor in America, and the movie covers those aspects with aplomb. It's also sized up ample room to satirize consumer culture, labor exploitation and worker rights, male and female relationships, art and media, cultural appropriation, and even memes. Because of all the topics, the movie could run the danger of feeling unfocused, but thanks to the remarkably assured vision and handling of writer/director Boots Riley, it all feels connected by its unique voice operating at a risky but exhilarating level. There are a lot of bizarre dips into the absurd that had me howling and on the edge of my seat wondering where we would go next. The most popular TV show is just watching a person get the stuffing beaten out of them, and it adopts a pretty simplistic name to go along with this transparency. A very Google or Amazon-esque company is offering "lifetime jobs" for employees to live in their factories and have all their cares taken for by a corporate slaver, I mean kindly overlord. There's an art show that consists of hurling cell phones at a woman's body. There's a corporate video with a female caveman narrator where she is, 1) stop-motion animated, and, 2) topless the entire time, complete with animated swinging breasts. There's an ongoing thread that seems to trace the life cycle of a meme. A woman throws a Coke can at Cash in protest. She gets plucked form obscurity, gains a talk show, gets an endorsement from Coke and her own video complete with dramatic re-enactment and chirpy jingle, and Cash getting hit becomes its own Halloween costume for white people. There are throwaway lines in this movie that any other major comedy would die for. This is a movie that is impossible to fall asleep to because every moment could be different and you won't want to miss one of them. There are moments that strike beyond the immediacy of the onscreen absurdity. One of those moments was when Cash was invited to join the big corporate after party. He's out of his element, surrounded by rich, relatively young privileged white people. They assume, being black, that Cash will instinctively know how to rap, and they insist that he perform a free-style rap for the assorted group. This ignorant assumption is just the start for Riley, because Cash gets up there and struggles to perform, barely able to scrap together the most elementary of rhyme, and the illusion has become dashed with the crowd. He notices they're losing their interest with him, so in a desperate ploy, he just shouts two words over and over into the microphone with enthusiasm: the N-word and a profanity. He does this for like a minute, and the crowd of privileged white people shouts it back at him, seemingly lying in wait for some tacit permission by "popular music" for them to likewise use the N-word. It was an indictment that went beyond that scene. Another is ultimately what happens to the big bad corporation by the film's end. It literally made me guffaw because it felt completely in place with the tone of the movie. All of this zany and funny stuff would feel passing if there weren't at least some characters worth our time. Cash is an engaging young man trying to get his life on track. He discovers he has a gift when it comes to coding, to blending into a white-majority community in a comfortable and acceptable manner. It's a survival technique many African-Americans have had to perfect on a daily basis, and soon to be featured in the upcoming adaptation of the best-selling YA novel, The Hate U Give. Even amidst its more bizarre moments and asides, the movie is about a black man trying to get by with limited opportunities in a society that too often devalues him. Stanfield (Get Out) has been a strong acting presence for some time, first in the remarkably powerful Short Term 12 and most recently on Donald Glover's Atlanta. He grabs your attention and Stanfield has a gift for comedy, particularly a nervous energy that draws you closer rather than pushing you away. His character goes on the rise-and-fall path, so we still need to be pulling for him to turn away from his newfound egotism, and Stanfield keeps us rooted. Thompson (Thor: Ragnarok) is Cash's conscience and her wardrobe and accessories are amazing, from her declarative "The Future is Female Ejaculation" T-shirt to her large earring messages. Hammer (Call Me By Your Name) is confidently smooth and sleazy as a coked-out, venal CEO that is so blasé about his wrongdoing that it doesn't even register for him as wrong. I appreciated that even with all the wackiness of this cracked-mirror version of our universe, Riley puts in the time and effort to make the characters count rather than be expendable to the satirical aims. Now, there is a significant turn in the third act that veers the movie into territory that will test how far audiences are willing to go along with Riley's raucous ride. I won't spoil what happens but for several of my friends it was simply a bridge too far. For a select few, they even said this turn ruined the movie for them. It worked for me because it felt like an escalation in the dastardly labor practices of the corporation and was finally a visceral reminder of their cruelty. Beforehand, Cash has been making moral compromises to keep his ascending career, excusing the after effects of his success even when it's selling weapons to foreign countries. That stuff is over the phone, part of his coded performance, and easier to keep out of mind. This escalation finally is too much to pretend to ignore. It's too much to excuse his own culpability working for the enemy. It's what pushes Cash back to his circle of friends he had left behind for the corporate ladder, it's the thing that politically activates him, and it's what pushes him to make a difference. I can understand, given the somewhat goofy nature of the plot turn, that several viewers will feel like Riley gave up his artistic high ground to self-indulgence. However, I would counter that the line between self-indulgence and an assured vision can be tenuous. The movie is so alive, so vibrant, and so weird, so having another weird detour felt agreeable. BlackkKlansman and Sorry to Bother You are each unique and fun but with larger messages to say about the black experience and other fissures within our volatile society. You'll be thoroughly entertained by either film and you'll walk away with something to ponder and discuss with friends and family and maybe that one racist uncle at Thanksgiving, the one who uses the term "false flag operation" a little too liberally. BlackkKlansman tells a fascinating, comic, and thrilling story about racism of the past, drawing parallels to the trials of today, in particular under the era of Trump. Sorry to Bother You has many targets, many points, and much to say, exploding with thoughts and cracked comedy. Riley is holding up a mirror to the shortcomings and inanities of our own society and the ease we can all feel to turn a blind eye to the difficult realities of systemic racism, capitalism, and worker rights. Lee is a known firebrand and his polemic doesn't shy from its political relevancy, but it tells a highly engaging story first and foremost, with top acting performances from its cast. In a summer of studios afraid to take chances, here are two excellent movies that take crazy chances and provide bountiful rewards. Nate's Grades: BlackkKlansman: A- Sorry to Bother You: A-
Nate Zoebl
Super Reviewer
Sorry to Bother You Quotes
There are no approved quotes yet for this movie.