Soul Man
(1986)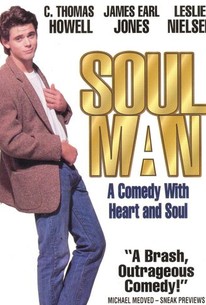 Movie Info
This comedy presents the story of a white college student who desperately wants to enroll in the Harvard Law School, but since his wealthy father refuses to help him pay the $54,000 he needs, so he begins taking tanning pills to darken his skin so he will be eligible to win the Bouchard Fellowship which is only awarded to African-American students. He wins it and goes despite the fact that he beats out a hard-working African American mother for the honor. While on campus, the young fellow learns a lot about racism and bigotry. He also falls in love with the woman he took the scholarship from.
Critic Reviews for Soul Man
Audience Reviews for Soul Man
Yeah, it's bad, and kind of racist, but I think it's probably well intentioned, just done badly. It has that bad 80's kind of appeal. Wanted to hate it, but just couldn't.
Nicki Marie
Super Reviewer
½
"Soul Man" is an embarrassing movie that somehow manages to be simultaneously intentionally and unintentionally racist. C. Thomas Howell plays a pampered rich kid whose parents cut him off just as he's been accepted to Harvard law school. He takes an overdose of "tanning" pills and voila! he's african american! Add to that a cheap afro wig, and he's gets a fully paid scholarship reserved for african american students. C. Thomas really doesn't look ethnic at all though, he just looks like a guy in blackface. Not alot of laughs in this movie, either intentional or post-ironic, it's just sort of average (although the sight of 90 lb C. Thomas punching out two guys who go FLYING across the room is pretty entertaining- what was it about punching a guy in the 80s that caused him to go flying 20 feet across a building?). A completely pedestrian waste of time.
Devon Bott
Super Reviewer
Leigh Ryan
Super Reviewer
Soul Man Quotes
| | |
| --- | --- |
| Mark Watson: | Gordon, I love you. You're my buddy. and if you get in and i don't, I hope you rot in hell. |
| Mark Watson: | Gordon, I love you. You're my buddy, and if you get in and I don't, I hope you rot in hell. |
| Gordon Bloomfield: | I feel the same way! |
| Mark Watson: | thanks! |
| Mark Watson: | Thanks! |