Soul Plane
(2004)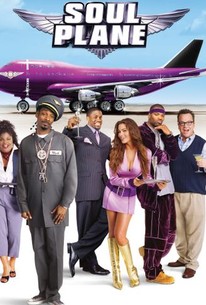 Movie Info
Why just fly when you can soar with soul? After a humiliating experience on an airplane, Nashawn Wade sues the airline and is awarded a huge settlement. Determined to make good with the money, he creates the full service airline of his dreams--complete with sexy stewardesses, funky music and a hot onboard dance club. Departing from the all new Terminal X in Los Angeles, this voyage gives "Fly" a whole new meaning, taking its passengers on its comical maiden voyage.
News & Interviews for Soul Plane
Critic Reviews for Soul Plane
Audience Reviews for Soul Plane
½
Soul Plane is a blatant rip-off of Airplane! And though it had a few laughs, which I must admit, as a film it's pretty bad and pointless and its execution is quite poor in trying to keep the jokes rolling. The biggest problem with the film is that relies far too much on stereotypes to create its humor. There really aren't any redeeming aspects about the film. Like I said, I laughed a few times, but as a whole, Soul Plane just threads the same road that previous, much better comedies have travelled. The jokes though at times a bit funny, get tiresome and the cast aren't very good either. This one of the most pointless films that I have seen in a while, and all it does is recycle some old ideas, adds plenty of stereotypes with no genuine thought of trying to make a memorable comedy. If the script would have been rewritten and a lot of thought put into writing good jokes, then maybe this film would have worked better. I've seen far worst in the genre such as this, and I've seen my fair share of garbage, and Soul Plane is a film that tries far too hard at being amore "polished" comedy than it actually is. Soul Plane is simply a film that just doesn't have anything going for it, and it's just a stupid, mindless film that might have worked better if the film wouldn't have relied far too much on stereotypes. When that's the only thing that creates the comedy, you know the film be bland, uninteresting and not worth repeated viewings, and Soul Plane is exactly.
One of the more ridiculous films I've ever seen. When it comes to "airplane comedies", the original "Airplane" from the 70's comes to mind. This to me is the industry standard and any aviation comedy that is released will be judged in comparison. "Soul Plane" has some entertaining moments and the idea of a tripped out plane is cool at first, but it wears out its welcome quickly. I did like watching Sofia Vergara...what man wouldn't? :)
George Kiriyama
Super Reviewer
I had the extreme misfortune to watch this. It is in my list of the worst 5 movies ever (Juno tops it). It is not funny at all and is boring as hell. My brother and mum think it's hilarious, but they're idiots.
Lauren Donis
Super Reviewer
Soul Plane Quotes
There are no approved quotes yet for this movie.