Soul Surfer
(2011)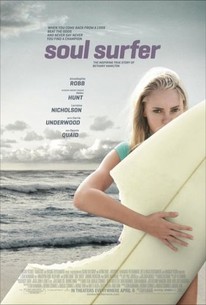 TOMATOMETER
AUDIENCE SCORE
Critic Consensus: There's an amazing true story at the heart of Soul Surfer -- and unfortunately, it's drowned by waves of Hollywood cheese.
Movie Info
Bethany (AnnaSophia Robb) was born to surf. A natural talent who took to the waves at a young age, she was leading an idyllic life on Kauai, participating in national surf competitions with her best friend Alana (Lorraine Nicholson), when everything changed. On Halloween morning, a 14-foot tiger shark came out of nowhere and seemed to shatter all her dreams. Soul Surfer reveals Bethany's fight to recover from her ordeal and how she grappled with the question of her future. Strengthened by the love of her parents, Tom (Dennis Quaid) and Cheri (Helen Hunt), and supported by her youth group leader Sara (Carrie Underwood), Bethany refuses to give in or give up, and begins a bold return to the water. -- (C) Official Site
News & Interviews for Soul Surfer
Critic Reviews for Soul Surfer
Audience Reviews for Soul Surfer
I like how the RottenTomatoes consensus put it: "There's an amazing true story at the heart of Soul Surfer -- and unfortunately, it's drowned by waves of Hollywood cheese." Yup, with material like this, it's hard to go wrong, but boy, it was freaking cheesy. I found myself cringing a lot at the laughably and poorly written dialogue, the mediocre acting (Sorry Carrie Underwood, you're a devout Christian and an EXCELLENT musician, which is all very inspiring, but acting ain't your thing), and the poor execution in storytelling. "What's up, Disney Channel?" As a Christian, I find myself cringing at the attempt to make an inspiring Christian-themed movie, but surprisingly, "Soul Surfer" as a Christian movie, wasn't THAT bad compared to the many other Christian movies. Let me tell you, there are some horrifyingly, awful Christian movies out there. You'll be pleasantly welcomed by the B-movie feel "Soul Surfer" has. It's not preachy or pretentious; deep down, there's a lot of purity and heart injected into this movie. There's a particular scene involving the Bethany, the main protagonist, that effectively agitates the audience's emotions, all without a word being said. Even the message was good-hearted, pure, and a relief, especially among a movie industry filled with dark and unsettling themes. Surprisingly, "Soul Surfer" as a Christian movie, manages to catch a couple of waves, but that's where it ends. The movie suffers from horrible pacing issues, mainly due to the fact that the incident that occurs, and the result afterwards are the only solid material "Soul Surfer" has for its narrative. The spaces in between are nothing more than fillers, and what dull fillers they are. The editing is sporadically all over the place, and the dialogue makes me shudder. Phew, this is one big cheeseball. Nevertheless, it's a good movie for children and is a surprisingly effective Christian-themed film -- just don't take your film critique crew to watch this. There IS an amazing true story at the heart of Soul Surfer -- and unfortunately, it's drowned by waves of Hollywood cheese... to the max.
½
Way too shallow. The true story it's trying to tell is inspiring and exciting, but the story in the movie wasn't. The shark attack could've been a really cool scene, but it's over in like 3 seconds. It's kind of unbelievable that a shark would just do that. The shark probably wouldn't have even stuck his head out of the water. It just seemed a little unrealistic, I'd kind of like to hear what really happened to Bethany in the water with the shark. The movie itself is very cheesy and I wasn't really "inspired" at all. I think the credits were the best part where you actually got to see Bethany surf. The credits were my favorite, everything else needed some work. Especially the acting on Anasophia Robb (sp?). You just got your arm bitten off by a shark...let's see some real tears and emotional breakdowns. She seemed way too calm about the entire ordeal.
What an incredible true story of Hawaiian female champion surfer, Brittany Hamilton (Anna SophiaRobb) has the perfect-est life with the perfect-est family until, one day, the CGI-est shark comes along and chomps off her arm, that shocked me, while she's hanging 10. Set in Hawaii, this is one of the most beautiful - and kid-friendly - films to feature dismemberment. It's okay because Brittany's misfortune will lead her down a path that teaches her the power of love. All of the soul in Soul Surfer is like guzzling maple syrup while someone tries to make you cry. Finely calibrated to the tween market, this story of triumph over adversity rides on an upbeat soundtrack and plenty of surf action. Director Sean McNamara speeds along/above/behind the waves with frenetic vigour, but also captures the sport's meditative nature.
Dean McKenna
Super Reviewer
Soul Surfer Quotes
| | |
| --- | --- |
| Bethany Hamilton: | Sarah's really bumming me out. |
| Cheri Hamilton: | Any particular reason? |
| Bethany Hamilton: | Yeah. So, I told her I'm not coming to Mexico. I mean, she knows that I have two important competitions coming up, right? I mean she knows how much I've put into this, you know, how much you and the whole family put into this. |
| Cheri Hamilton: | So what's her angle? |
| Bethany Hamilton: | That going to Mexcio to help kids is really important. And I know it is, I mean, I really, really wish I could go. It's just... I've got to stay and train for regionals. It's like she's counting on me now, like I'm the only person in the entire world who can do this. |
| Cheri Hamilton: | It's your call. |
| Bethany Hamilton: | Great. Now I feel even worse. |
| Cheri Hamilton: | That's good. A small step in a good direction. |
| | |
| --- | --- |
| Bethany Hamilton: | What's his name? |
| Sarah Hill: | They don't know. He hasn't said a word, he won't even smile. |