Soulboy
(2010)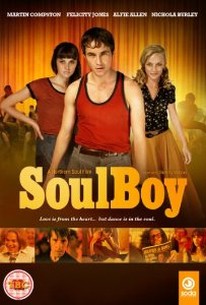 Movie Info
The intriguing genesis, impassioned adherents and unique fashions and dance moves of the Northern Soul scene make it one of the most fascinating of British youth culture movements -- not to mention the music it celebrates, which is quite simply some of the greatest ever made. Shimmy Marcus' dynamic and satisfying coming-of-age film is set right at the pulsing heart of the craze, and features a great UK cast.
Critic Reviews for Soulboy
Audience Reviews for Soulboy
I got this film as a DVD as a Christmas present as I like Northern Soul music. The film is set in 1974 and predominantly set in Stoke, Joe (Martin Compston from The Damned United) is trying to find his place in the scheme of things alongside a dead-end job as a potato delivery man and drinking at his local pub with his best friend, portrayed by Alfie Allen. Frustrated by his life, he is introduced to the Northern Soul music scene and the famous Wigan Casino club by local hairdresser, Jane (Nichola Burley). Swept along with the lifestyle, he meets art student Mandy (Felicity Jones of Cemetery Junction), dabbles in the seedier side of the Northern Soul scene through experimenting with drugs and comes up against the club's resident hardcase, portrayed by Craig Parkinson. The big questions for Joe is will he be consumed by the Northern Soul lifestyle and who will he choose to share his "soul" with... the glamorous Jane or the loyal Mandy? After seeing Cemetery Junction, I must admit that I felt a little short changed by this film and not because of the obvious connection of Felicity Jones in both films. They are thematically similar - young lad wants to escape his boring lifestyle, get the girl and try to stay out of trouble. This film was touted as a film about Northern Soul and featuring the iconic Wigan Casino. To be honest, yes - they do feature, but they simply are the backdrop to, what could be seen as simply a "coming of age" film. The acting is of a good standard, but unfortunately the script is very workmanlike, can at times seem bland and doesn't have the wit of Cemetery Junction. Also, you don't feel that there's any real risk when Joe dabbles in drugs, which later has an impact on another character. It's a harmless enough film, but not one that I'd say rush out to buy or put on your rental list.
Theta Sigma
Super Reviewer
Soulboy Quotes
There are no approved quotes yet for this movie.