Sound of My Voice
(2012)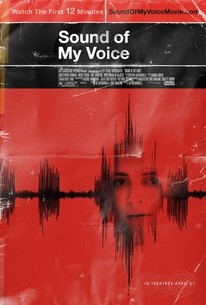 Movie Info
In Sound of My Voice, Peter (Christopher Denham) and Lorna (Nicole Vicius), a couple and documentary filmmaking team, infiltrate a mysterious group led by an enigmatic young woman named Maggie (Brit Marling). Intent on exposing her as a charlatan and freeing the followers from her grip, Peter and Lorna start to question their objective and each other and they unravel the secrets of Maggie's underworld. -- (C) Fox Searchlight
News & Interviews for Sound of My Voice
Critic Reviews for Sound of My Voice
Audience Reviews for Sound of My Voice
½
In the end of 2011, I was amazed and struggling with pessimism and optimism, Lars von Trier's Melancholia and Mike Cahill's Another Earth, respectively. The idea of another Earth was more breathable, especially in times of the end of a year where you are supposed to say out loud New Year's resolutions. And then, Kepler-22b was discovered. I put Melancholia and Another Earth together because it was a way to analyze and discuss skepticism and belief within a more scientific than religious point of view. No, I wasn't worried with the prophecies for 2012, but I got impressed with the following discoveries of a planet being devoured by its star. Perhaps, deep inside I asked myself: and if? So, in this New Year's Eve, a little bit disappointed once everything remained the same, I decided to rewatch Another Earth. I haven't noticed before that Brit Marling, the lead actress, co-wrote the script with director Mike Cahill, what took me to another movie also co-written by her: Sound of My Voice. That's curious to note how the work of some (most?) writers/directors is really connected (a succession of different ideas leading to a homogeneity) . There's a line in Another Earth that is, for me, the exactly connection between both movies: "Within our lifetimes, we've marveled as biologists have managed to look at ever smaller and smaller things. And astronomers have looked further and further into the dark night sky, back in time and out in space. But maybe the most mysterious of all is neither the small nor the large: it's us, up close. Could we even recognize ourselves, and if we did, would we know ourselves? What would we say to ourselves? What would we learn from ourselves? What would we really like to see if we could stand outside ourselves and look at us?" The Sound of My Voice can be seen as the separation line between the micro and the macro, probably where we, as humans, really stand. If another Earth put us in perspective, the sound of my voice reveals us: unsure, fickle, afraid, starving for salvation and certainties. For me it was clear and obvious that the movie was a view on humanity and not on sci-fi; that it was way closer to Martha Marcy May Marlene than to Another Earth. Until I read an interview of Marling, Zal Batmanglij and Christopher Denham (who played Peter) to Milk Made and started to wonder: am I that skeptical? SPOILER ALERT! Reviewing some scenes, rethinking some points, the answer is no. The script has some holes that don't seem to be intentional, at least not in the concept of open-end. If we clear see childhood abuse and, perhaps, its consequences in the character of the cult leader it's because of a sequence of scenes where after Maggie describes an abusive situation/memory, we see Abigail with her dad (that, in a previous scene, is already portrayed to look like a sexual abuser about to act/attack) and start to glue the pieces of what we saw before. There're lot of signs, right from the beginning*, and they are so many that they tend to induce us to be sure that Maggie is a fraud. But isn't that part of the game? I wouldn't belive that we are talking about a flimsy script. That, that is perhaps a trap. A trap to show us how similar we are from Peter - narrow-minded, self-involved, pretentious - and how, like him, we would easily end up eating the poisoned apple. "What do you wanna do? You wanna go back to our normal lives. That's fine. We can do that. I can teach all day. You can stay home and write and surf the web. And on the weekends we can get wasted at various art installations or sneak forties into random foreign films. And then it's suddenly, like, we wake up and, whoops, where did our 20s go? But somewhere in the Valley there is a woman living in a basement who claims to be from the future. She's actually amassing followers. These people who believe that she'll lead them to salvation or whatever. And, yes, she's dangerous, but we have to see this thing through all the way or we're chumps. Don't you wanna do something that matters?" *Maggie wakes up in a bathtub in some motel room. She has no idea of who she is , she can't remeber anything but her name and birthdate. She wanders aimlessly through the streets, living on the edge. Klaus, that had heard about her, finds and takes care of her. In some weeks she starts to remember some things, violent images. She thinks she has lost her mind, until Klaus explains to her who she is. What does that sound like? Pretty much like any fanatic cult after their messiah, no? But the only question that really intrigues me - because throughout the movie I never doubt that Maggie was a con artist - is how Peter and Lorna found out about the cult. ** I like that: "Time travel doesn't mean that the person who comes back isn't ordinary. If the military, let's say, in the future develops the ability to time travel and a soldier comes back, that's a very human person who's flawed and difficult and complicated and likes video games and listens to his iPod."
Rubia Carolina
Super Reviewer
Equal parts baffling and unsettling, with a gritty realism and hypnotic stillness that proves quite mesmerizing and menacing at the same time. Britt Marling has a remarkable screen presence that makes you question and then re-question your ability to correctly perceive what's happening in front of you. Engrossing and memorable.
Tracy Kenderdine
Super Reviewer
½
This is one of those movies that you just can't stop talking about after you watch it. Some will love it, some may hate it (I kinda did) but I cannot deny that this was worth watching as it raised some serious questions about faith and personal beliefs.
Sound of My Voice Quotes
| | |
| --- | --- |
| Maggie: | Do you know what's in that apple? Logic. Bitterness. Intellectual Bullshit. |
| | |
| --- | --- |
| Maggie: | See the anchor is the sign of a traveller and the number fifty four refers to where i come from, twenty fifty four. Your future. |
| Maggie: | See the anchor is the sign of a traveller and the number fifty four refers to where I come from, twenty fifty four. Your future. |
| | |
| --- | --- |
| Maggie: | What are you hiding from me? |
| | |
| --- | --- |
| Maggie: | Every life is death, and most deaths are suicides. Some are just more gradual than others. |