Southern Baptist Sissies
(2014)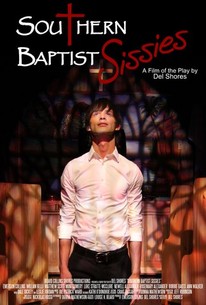 Southern Baptist Sissies Photos
Movie Info
Southern Baptist Sissies is a film of the theatrical experience of writer/director Del Shores' GLAAD Award-winning play about four gay boys growing up in the Southern Baptist church. It explores the conflict between the caustic rhetoric of dogmatic religion and the fragile development of adolescent homosexuality while challenging hypocrisy, exposing damage and offering hope. The intimate experience of theatre on the film screen reveals the complicated emotions from all sides - the confused child, the struggling adolescent and the angry and damaged adult. (c) Beard Collins
Critic Reviews for Southern Baptist Sissies
Audience Reviews for Southern Baptist Sissies
For some reason, I had been expecting a comedy musical in the style of The Book of Mormon. Boy -- was I wrong! This is a serious play (with many comedic moments) about the isolation of gays in society and injustice imposed by religion. It is undoubtedly the most effective translation of a live play to film that I have ever seen, and for that, the director gets big points. Although I was slow to warm to it, I did eventually become invested in the characters and was moved nearly to tears by the end. It has an excellent script with some very fine acting, particularly from the veteran actors. I recommend this film to those who are not uncomfortable with challenging their beliefs, culture and religion.
Christian C
Super Reviewer
Southern Baptist Sissies Quotes
There are no approved quotes yet for this movie.