The Southerner
(1945)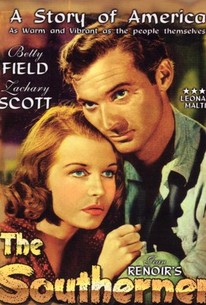 Movie Info
The Southerner was Jean Renoir's favorite of his American films. Shot on location, the film stars Zachary Scott as a sharecropper who yearns for a place of his own. On a tiny, scraggly patch of land, Scott tries to make a go of things, along with his wife Betty Field, his grandmother Beulah Bondi, and his children Jean Vanderwilt (aka Bunny Sunshine) and Jay Gilpin. Though a proud, independent man, Scott is forced by circumstance to seek help from neighboring farmer J. Carroll Naish, whose life experience have left him bitter and vituperative. The two men become enemies, but are reunited by their mutual love of fishing. Scott suffers a setback when a rainstorm destroys his cotton crop. He is about to go wearily back to working for others (specifically, factory owner Charles Kemper, who also narrates the film) when he is convinced by his never-say-die family to persevere on his own. Director Jean Renoir also wrote the script for The Southerner--in fluent English rather than French, as mental exercise. Told at a leisurely, unhurried pace, the film is the one American Renoir effort that comes closest to his "slice of life" dramas of the 1930s. The Southerner was not a box office hit, but did win the effusive praise of critics, not to mention the Venice Film Festival "best picture" award.
Critic Reviews for The Southerner
Audience Reviews for The Southerner
Jean Renoir's American tale is a fabulous exposition of life in the Depression for a man who does what he needs to do to survive. It remains a little known film unfortunately. It's strong performances ought to receive more acclaim.
John Ballantine
Super Reviewer
½
Not sure if it was the terrible audio, but I liked this so much more after re-watching. The critical controversy about this when it came out was the question of naturalism, in the geography and in the performances. James Agee thought Zachary Taylor, from Austin, Texas, and Bondi were the authentic ones, and Betty Field was awful. Today, people seem to think Taylor is too doe-eyed and Bondi should have been on Hee-Haw. These performances contain their own contradictions. Parts of what Taylor and Bondi did are understated and perfect and contrast with moments which play more like theatrical tableaus. Norman Lloyd, in his role as a slavish hick peon, plays it like Harpo Marx in sackcloth and no props -- with just a little makeup he could be part of the family in Hills Have Eyes. Betty Field may clearly be un-Texan, but she is consistently charming while never playing to the camera, with an unglamorous, non-naive appeal. The style of the film itself compares to Bondi and Taylor. There are many moments, and many close-ups, that seem throwbacks to the upfront emotionalism of silent films. There are quick shots of the earth and the river that would fit within a modern documentary and not as antique inserts. At one point, Taylor leaves his wife crying in the dirt to go speak directly to God, Job-like. There are three angles of Taylor moving across the hot soil, quick shots, and suddenly he's delivering a languid soliloquy in a medium shot, his big eyes pointing up like in early Christian painting, with a blank backdrop for a bland sky behind him -- "Why'd you make it all so purty ..." Maybe the movie becomes beautiful since the audience has to draw out all the naturalism, physical and internal, that's there.
Adam Mahler
Super Reviewer
A man and his family -- including a gripey old grandmother entertainingly played by Beulah Bondi -- buy land and try to make it on their own as cottton farmers in Texas. It's very similar to the Good Earth, in that the family endures hardships -- financial, family, health -- along the way to fulfilling their dreams, but The Southerner isn't quite as dark in tone. A little sappy at times, but still a decent film.
The Southerner Quotes
There are no approved quotes yet for this movie.