Southland Tales
(2007)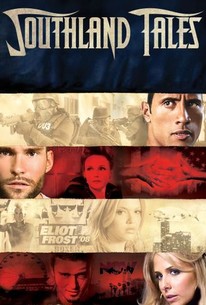 TOMATOMETER
AUDIENCE SCORE
Critic Consensus: Southland Tales, while offering an intriguing vision of the future, remains frustratingly incoherent and unpolished.
Movie Info
The city stands on the brink of social, economic and environmental disaster. "Southland Tales" is an epic story set over the course of three days that culminate in a massive 4th of July celebration. Boxer Santaros is an action star stricken with amnesia. Krysta Now is an adult film star developing her own reality television project, and Roland Taverner is a Hermosa Beach police officer who holds the key to a vast conspiracy.
Critic Reviews for Southland Tales
Audience Reviews for Southland Tales
It feels like a bizarre mix of Blade Runner and Twin Peaks written by Bret Easton Ellis and adapted by Uwe Boll - ridiculous, pretentious, incomprehensible and full of tiring exposition from beginning to end about a universe that couldn't be more uninteresting.
Carlos Magalhães
Super Reviewer
½
A film that leaves you in awe. In awe of the amount of wasted talent combined in this pretentious, confusing and unfunny dystopian tale. Director Kelly delivered a surprise cult hit with Donny Darko and revisits the themes of time travel and the end of the world here. He packs it into an overly long story with political satire, too many unlikable characters and a plot that's almost impossible to follow. It's trying to be smart, funny and David Lynch-esque but isn't really any of that. During the last half an hour things are slowly starting to make a little more sense but the finale, overblown with Christian symbolism, makes it hard to care after the horrible first half of the movie. Unbelievable, how many great names signed up to be part of this terrible attempt in creating art. Kelly still knows how to use songs and to film musical numbers but as for the rest is concerned, one has to wonder what the hell he was thinking. Watch at your own risk.
½
A strange film set in the future with a confusing plot with deals with alternative energy, politics, world war 3 and the 4th dimension!! A bit long it has some good moments but a few lows as well. Overall just a bit odd.
Southland Tales Quotes
There are no approved quotes yet for this movie.