Southlander: Diary of a Desperate Musician
(2001)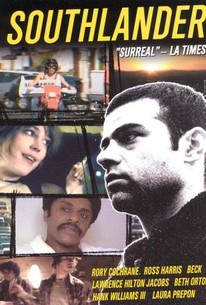 Southlander: Diary of a Desperate Musician Photos
Movie Info
Rory Cochrane stars as Chance, a musician who loses his extremely rare magical synthesizer which takes the form of a white 1969 Moletron keyboard. He looks for it by wandering around a de-glamorised Southern California with pal Rossangeles (co-writer Ross Harris from DJ Me DJ You and Sukia). They sometimes find clues in the local classified newspaper called the Southlander, which leads them to meet interesting folks.Their adventures eventually lead them to the home of former funk legend-turned-tennis player Mother Child (Lawrence Hilton-Jacobs from Welcome Back Kotter) and his blonde girlfriend Snowbunny (Meghan Gallagher). Beth Orton stars as Chance's love interest Rocket and the leader of the band Future Pigeon. Beck plays Bek, his younger pre-stardom self, back when he was into drugs and recording music by himself in a shack. Also starring Ione Skye, Hank Williams III, Richard Edson, and Elliott Smith. Southlander was shown at the 2001 South by Southwest Film Festival.
Critic Reviews for Southlander: Diary of a Desperate Musician
Audience Reviews for Southlander: Diary of a Desperate Musician
Southlander: Diary of a Desperate Musician Quotes
There are no approved quotes yet for this movie.