SpaceCamp (Space Camp)
(1986)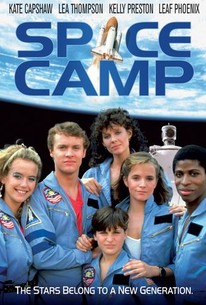 SpaceCamp (Space Camp) Photos
Movie Info
This is an eerily prescient family adventure starring Kate Capshaw as Andie, a frustrated NASA astronaut who's never actually been into outer space. Her husband, flight controller Zach (Tom Skerritt), is sympathetic, but he can't influence her place in the rotation. Andie is assigned to train a group of intelligent high school students at the summer science camp called Space Camp, which is run by NASA and supervised by her husband. There she meets her campers: Kevin (Tate Donovan), a blasé, horny teenager; Tish (Kelly Preston), an airhead with a photographic memory; Kathryn (Lea Thompson), an arrogant pilot; obnoxious youngster Max (Joaquin Phoenix, then billed under the first name Leaf); and scientist-in-training Rudy (Larry B. Scott). While testing the solid booster rockets aboard a real shuttle, the team is blasted into space accidentally. Without enough air, the discordant team pulls together, each discovering hidden talents. The Challenger space shuttle disaster in January 1986 was bizarrely similar to the events depicted in Spacecamp, with far more horrific results. Its release date pushed back several months because of the tragedy, the film was still a painful reminder to the public of the national calamity, and it consequently grossed only about ten million dollars at the box office.
News & Interviews for SpaceCamp (Space Camp)
Critic Reviews for SpaceCamp (Space Camp)
Audience Reviews for SpaceCamp (Space Camp)
½
A very charming and fun adventure about kids in space camp. It's a lot of fun and I highly recommend it.
A bunch of kids on a tour of a space centre are accidentally shot into space. Happens all the time apparently; you can't launch a rocket without having to plough through all the floating toddlers. The result is a teeny bop version of Apollo 13. But rather less pompous and boring.
Leigh Ryan
Super Reviewer
SpaceCamp (Space Camp) Quotes
There are no approved quotes yet for this movie.