Space Cowboys
(2000)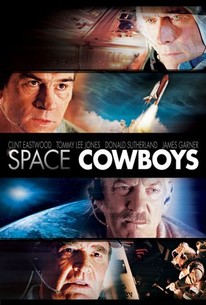 TOMATOMETER
AUDIENCE SCORE
Critic Consensus: While the plot is overly cliched, the suberb acting by the stars (especially the tense interactions between Clint Eastwood and Tommy Lee Jones) and the spectacular special effects make this a movie worth seeing.
Movie Info
In this adventure drama, four men passed over by the space program get one last chance to be heroes and live out their dreams. Frank Corvin (Clint Eastwood), Hawk Hawkins (Tommy Lee Jones), Jerry O'Neill (Donald Sutherland), and Tank Sullivan (James Garner) were top pilots within an elite Air Force squadron and on the fast track to becoming the first Americans in space in the early 1950s. However, when NASA was established, the pilots were cut out of the loop; Corvin went on to become an aerospace engineer, Hawkins continued on as a freelance pilot, O'Neill became an astrophysicist with a sideline in designing roller coasters, and Sullivan took up preaching as a Baptist minister. Years later, a Russian satellite's guidance system has started to malfunction, and it is expected to crash into the Earth within a matter of weeks. The system is identical to the one Corvin designed for Skylab, so NASA head Bob Gerson (James Cromwell) asks Corvin to help him with the emergency mission to repair the satellite. Corvin agrees under one condition -- that he be sent up to do the repairs himself, with Hawkins, O'Neill, and Sullivan as his crew. Clint Eastwood directed Space Cowboys while also starring as Frank Corvin; his supporting cast includes Marcia Gay Harden, Courtney B. Vance, Loren Dean, and William Devane. ~ Mark Deming, Rovi
Critic Reviews for Space Cowboys
Audience Reviews for Space Cowboys
½
Teaming up aging iconic stars, a kind of elderly brat pack if you will. Always a solid formula that generally wins over all viewers of all ages. On one had these movies are usually great fun, on the other hand a little sad because you know they're kinda doing it before the inevitable The Plot: Its the 50's and our four protagonists are in the US Air Force. Hawk (Tommy Lee Jones) is a pilot. Tank (James Garner) is also a pilot and navigator. Jerry O'Neill (Donald Sutherland) is an engineer. And Frank Corvin (Clint Eastwood) is pilot also. Both Frank and Hawk are two of the best pilots in the Air Force that are aspiring to be astronauts. Alas their dreams are hampered when the Air Force is relinquished of space test flight duty and its handed over to the newly created NASA. Fast forward to the present day (back in 2000) and NASA has an issue with an old Soviet satellite which is on a collision course back to Earth. NASA needs this satellite working again but its electronics were designed way back in the 50's...by Frank. So NASA begs Frank to help them, he agrees with one condition, that they allow him and his old team go into space to fix the problem seeing as no one else knows his old design. At first NASA scoffs at this but eventually, knowing Frank is the only man who knows the workings of the satellite, they agree. This movie is pre-digital de-aging so for the early sequences which show a young Jones, Eastwood, Sutherland, and Garner, young actor look-alikes were used. But that wasn't all, these young actors were given a touch up with makeup to highlight some of the iconic stars features. For example the young Eastwood had a little mole on his face plus some extra recognisable Eastwood facial wrinkles (by the looks of it). At the same time all the young actors had their voices dubbed over with the actual older stars voices. Sounds cheesy but it worked flawlessly for a very good overall outcome finished off in black and white. As for the characters themselves, well they're a sweet cliche bunch to be sure. Let me be honest here, this movie isn't really stretching any limits, it plays it safe and straight. Clint plays gives us his usual tough guy persona, the 'don't take no shit from anyone' routine which he does so well. Garner plays the more sensible down to earth type fella. He was a preacher before joining in with the mission, but one gets the feeling he may have been a bit of a slightly dodgy geezer behind the scenes; not as Godly as one might presume. Then you have Sutherland as the ladies man who literally chats up every woman in the movie. And lastly we have Jones as the fast talkin' daredevil wildcard who acts first and thinks second. As you might expect these old fogies have to go through the rigorous training programme to prove they can make the grade. And as you might expect this is where most of the charming chuckles come in as we see these old men trying to keep up with the youngsters (and impress the officials). The entire notion of this is of course completely and utterly ridiculous but you gotta just go with it and enjoy the light-hearted ride. Watching these guys puffing and wheezing as they try to get through the daily workouts is definitely amusing and genuinely tiring to watch. The best sequence (which is coincidentally their best performance in these tests) is when they get through the eyesight test. Although the idea that O'Neill memorised the eye chart and it hadn't changed since he was a young man (a good few decades) is somewhat preposterous. Twas pretty creepy watching Sutherland's character chatting up all the women in the movie. Every time he sees a woman he leers at them and tries on his best lines (even when naked). Can you imagine that these days! That kind of thing is virtually forbidden. But to make things even more corny, creepy, and cheesy is the fact that some of these women actually liked these old geezers coming on to them; and both Hawk and O'Neill actually manage to get something going with two women! Hawk manages to pick up one of the NASA officials for crying out loud (hardly professional). Although this was clearly to give the movie some extra emotional oomph in the big finale. The meat of the movie kicks in when the team eventually get into space to carry out their mission. Naturally all is not what it seems as the Soviet satellite turns out to be an old nuclear warhead launch platform. And of course one of the young astronauts has an alternate mission (ordered by the slimy NASA project manager Bob Gerson, played by James Cromwell) which leads to all sorts of problems. I wasn't entirely sure why Gerson wanted to keep the satellite in orbit though, surely it would get discovered eventually and the accidental launch danger would always remain. No win scenario for him, might as well just reveal it and get it sorted. But yeah basically what we get is a long section of the movie with loads of high-tech space jargon that none of us civvies would understand and loads of very cool but very complicated technical visuals. Don't get me wrong the visuals are wonderful considering how old this movie is, lovely CGI all round. But half the time the various satellite sequences are simply a mass of glistening metal, hoses, nuts and bolts which you just take for red as realistic (because basically, who the flip knows). Sure there are some shots and sequences which highlight some obvious CGI and greenscreen, but like I said this is quite an old movie now. They do also utilise some stock footage of real rocket launches and landings but its blended in well. For all the visual glory and charming performances the plot here is pretty predictable and hammy frankly. I mean they literally hit every emotional cliche you can think of. Everything is blatantly obvious, all the characters are dated stereotypes, and the action is very tame. You know someone isn't coming home, at least one, and you do get a clue with Hawk earlier in the movie. But credit where credits due, it's not overly obvious. The only thing I would say is the moment its time for the grand sacrifice it's not as emotional as you'd think. Director Eastwood really missed a chance to pour on thick layers of easy schmaltz if you ask me. In the end this is a by the numbers affair really. Eastwood plays it so safe it's almost unforgivable, almost. But at the end of the day the movie is just so damn delightful and endearing it's really hard to not enjoy it. I'm still not sure if the final little sequence at the end of the movie is a happy ending or not. I suppose it is kinda, depends on how you look at it.
Phil Hubbs
Super Reviewer
½
It`s pure high-flying fun from start to finish. It soars through the air as an high-tech adventure with old-school heroes. It's a rocking good time. A thrilling, exciting and endlessly funny movie. Director, Clint Eastwood's best film in years. James Garner, Donald Sutherland, Tommy Lee Jones and Clint Eastwood are magnificent. Their having a great time, their chemistry is absolutely outstanding. You cant help but love it and this extraordinary dream team. A truly stunning and brilliant film. A clever, magnificent and unforgettable movie. A non-stop joy-ride filled with literally old-school excitement. I absolutely loved this movie. One of my personal favorites. A great slam of tender drama, sharp humor, sizzling suspense and lots of heart. It aint nothing but a good-time.
½
Space Cowboys a good adventure drama film with a great cast. However, considering that this is a Clint Eastwood film, it's also a bit disappointing considering that Eastwood has made far better films in his career. The cast do a good job here, and there's a dose of light hearted comedy to even the story out. I think it's great to see such great actors together in one film, and their varied talent brings something unique to the film. This is an entertaining film that is lots of fun, but it lacks something to really make a Clint Eastwood film really special. Space Cowboys is a bit too simplistic almost. Considering that this film was directed by Clint Eastwood, you'd expect something great. But the end result is one of the least memorable films that Eastwood has directed. I'm not saying that this film is bad, far from it, I just think that Clint Eastwood has made far better films in his career. As a whole, Space Cowboys is a good adventure film with a great cast of legendary actors. However, considering this, Space Cowboys could have been a far better film as well. For what it is, Space Cowboys is a good film that delivers a good time, but with that said, Clint Eastwood has made far better films than this. But if you're a fan of his work, then check this one out; just don't expect anything great from it. A good film for what it is, but kit could have been better as well.
Space Cowboys Quotes
There are no approved quotes yet for this movie.