Space Jam
(1996)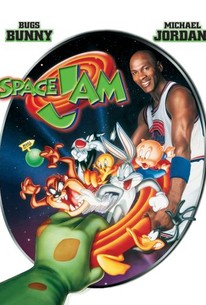 TOMATOMETER
AUDIENCE SCORE
Critic Consensus: While it's no slam dunk, Space Jam's silly, Looney Toons-laden slapstick and vivid animation will leave younger viewers satisfied -- though accompanying adults may be more annoyed than entertained.
Movie Info
Basketball superstar Michael Jordan and cartoon favorite Bugs Bunny team up with other basketball greats and Looney Tunes characters in this combination animated/live-action feature. Jordan must help the Looney Tunes gang with a basketball game against a group of outer space creatures whose plan, if they win, is to kidnap the Looney Tunes and take them to a failing intergalactic amusement park as the latest attraction. Also starring Academy Award-nominee Bill Murray ("Lost in Translation," "Charlie's Angels") and Wayne Knight (TV's "Seinfeld," "Rat Race"). Gene Shalit says this movie is "for adults, kids, teenagers, women, men, boys, girls, old folks, young folks, Jordan fans, Bill Murray fans, Wayne Knight fans and every Looney Tunes lover who wants to revel in Bugs Bunny and his pals at their looney tuniest."
News & Interviews for Space Jam
Critic Reviews for Space Jam
Audience Reviews for Space Jam
Nostalgic? Sure. A staple of our generation? Sure. But a good film? Not exactly. It is horrifyingly dated, poorly written, badly paced, and at the end of the day rather pointless. One must admit however that it was an ingenious commercial ploy; Michael Jordan and the Looney Tunes? Brilliant. But this doesn't make it a quality cinematic experience. The only takeaway from the film is that Billy Murray can make anything better and that "I Believe I Can Fly" by R. Kelly is still as beautiful and iconic as ever. It's unfortunate such a powerful song is associated with this failure of a children's film.
Matthew Samuel Mirliani
Super Reviewer
Not too sure why this film is called Space Jam but I guess it sounds kinda cool doesn't it. Despite the fact the film stars all the Warner Bros Looney Tunes characters the whole thing is really all about Michael Jordan. A fictional account of a small segment in his career if you will. So if you haven't already guessed the film is also all about basketball, this makes me wonder if the film was as much of a hit here in the UK as it inevitably was in the US. Obviously the Looney Tunes characters had a lot to do with the appeal for many as the film serves as more of an animated adventure rather than a true basketball feature. That being said it does give plenty for both sides of this spectrum. Should I really have a go at the plot? this is after all a cartoon of sorts. Basically MJ must do battle on the court against some aliens who want him to be their slave within their intergalactic theme park. Thing is these crafty aliens have pinched the talents of fellow NBA All-Stars Muggsy Bogues, Larry Johnson, Shawn Bradly, Pat Ewing and Charles Barkley (what about John Stockton or Scottie Pippen?). So end of the day its Michael Jordan vs a selection of other NBA players, guess who wins? I wonder what the films trying to say?. As far as an animated flick goes this is a fun time, its bright bold and colourful, there's plenty of toon action, the usual visual gags, in-jokes, sly homages etc...and of course the WB roster is always good see. The problems I have is the fact the animation is nowhere near as good as the classic original toons of Chuck Jones and co naturally...and they never will be ever again. The voice talent is nowhere near as good as Mel Blanc and co...and they never will be again. Plus of course they mix in CGI with hand drawn animation which kinda works in places but looks awful in others. I think the worst voice work going in this film must be the attempt at 'Pepe Le Pew'. Wasn't a fan of the stereotypical female version of Bugs either, wasn't required, was just added for the young female audience and felt totally out of place. On the other hand the baddie alien characters weren't too bad if a little bland, they became more interesting in massive monster mode of course. I think if I were Bradly I might have been upset my animated alter ego was made out to be a slow towering numbskull. Using Danny Devito as the chief alien badguy was a smart move, again his character wasn't overly intriguing and kinda standard in design but it worked. The actual basketball game is good fun even though you'd think it wouldn't be. Its certainly looney, has some slick moments, a nice 'Pulp Fiction' homage, the gag about Michael's special drink is cute, its fun watching the lofty NBA Stars trying to act and Bill Murray adds some much needed fizz for adults. You know what happens in the end, its no surprise, luckily it is a good ride getting there. Definitely an unexpected hit straight outta left field.
Phil Hubbs
Super Reviewer
Oh come on, who doesn't love Space Jam?
Matt Goodman
Super Reviewer
Space Jam Quotes
| | |
| --- | --- |
| Stan Podolak: | C'mon Michael it's Game Time. Get your Hanes on, lace up your Nike's, grab your Weaties and your Gatorade, and we'll pick up a Big Mac on the way to the ballpark. |
| | |
| --- | --- |
| Daffy Duck: | But mommy, I don't want to go to school today. I want to stay home and bake cookies with you! |
| | |
| --- | --- |
| Daffy Duck: | But mommy, I don't want to go to school today. I want to stay home and bake cookies with you! |
| | |
| --- | --- |
| Daffy Duck: | But mommy, I don't want to go to school today. I want to stay home and bake cookies with you! |