Space Station 76
(2014)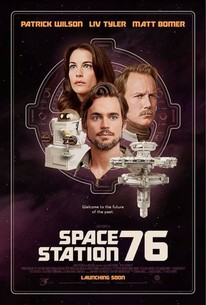 Movie Info
A character-driven, domestic dramedy, which takes place in a 1970's version of the future, where personalities and asteroids collide. (c) Official Facebook
News & Interviews for Space Station 76
Critic Reviews for Space Station 76
Audience Reviews for Space Station 76
"Space Station 76" has one of the most creative, cohesive and brilliant set designs I have seen in a movie of such limited budget. Every exterior shot appears to reveal a new retro-tacky wallpaper or mural, to marvelous effect. The retro-hi-tech fixtures and fittings of the space station are brilliant and amusing. The costume wardrobe is no less inspired or impressive. The humor in this film gravitates toward the visual -- the script is a black hole from which no laughs seem able to escape. Despite the bland dialogue, there is a galaxy of screen moments (including many subtle ones) that can launch a burst of laughter. There are nevertheless elements of brilliance in the script, such as universal, pervasive and understated 1970's sexism. It's really a hoot when you notice all the details and thoughtful touches that abound in the film. The minor constellation of stars orbiting the project brings equal numbers of super novas and dwarf stars. In particular, Patrick Wilson and Marisa Coughlan ignite their comedy brilliantly. (If you ask me, Wilson's groovy retro mustache outshines them all!) Others seem to lack chemistry. In the inevitable moments when you start feeling the story is getting dull, just look around at the sets or costumes, and you'll likely spy something clever or humorous shining through.
Christian C
Super Reviewer
½
The trailer, with a female voice narrating, collects all the somewhat funny moments and sells this film as something very different from what it is. I was hoping for a spoof of the genre from a certain era, the '70s, like Black Dynamite, but this flick comes nowhere close. It does make slight references to Spaceballs, Logan's Run, and Silent Running (also Keir Dullea plays Liv Tyler's dad) plus it contains R rated hijinks. I think it is a case of too many cooks in the kitchen (5 equal screenplay credits). Jack Plotnick, who has a long filmography of acting credits on IMDb and no feature directing credits prior to this, is the voice of the station computer and shares writing credit. Michael Stoyanov is the voice of the robot psychologist on board and shares writing credit. Sam Pancake and Kali Rocha also share writing credits and play minor characters on this space station. Jennifer Elise Cox is the one writer who is not part of the cast, and this is her first professional writer credit. All these egos contributing to the script lead to a disjointed experience. The plot involves a couple, played by Coughlan and Bomer, in a failing marriage. Their daughter, played by Kylie Rogers, is a major focus of the storyline, which just feels wrong since all the R rated stuff is mixed in. Patrick Wilson plays the closeted gay captain of the station. Oh, funny, he's not good with children or close to his crew, he's a male chauvinist, he's suicidal, and he's gay. Liv Tyler plays the new highly educated female officer, a lieutenant, who is learning her way around this new assignment. Look at how funny and socially relevant this movie is with a lady officer who can't have children and nearly everyone on board constantly demeans her and comments that a woman just doesn't belong in a leadership role. The man is less than a man; the woman is less than a woman. People in the '70s had such funny views. The young character at the periphery of all the adult drama will surely grow up to have a more enlightened view in the future, right? Wait! How come the adult women characters are so bitchy, or passive-aggressive, or only sex objects? There are no good examples. Oh yeah, and an asteroid is on course for the station. The special effects are nothing special, the actors struggle with the material, and the asteroid doesn't add a single bit of suspense.
Byron Brubaker
Super Reviewer
½
Diffuse and pointless but great set design and some terrific music.
Space Station 76 Quotes
There are no approved quotes yet for this movie.