Space Truckers
(1997)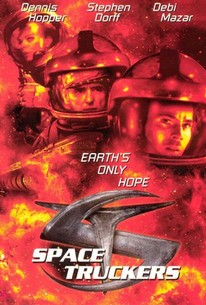 Movie Info
Former National Lampoon editor Ted Mann, who scripted this $27 million science-fiction comedy, calls it "the first outer-space road movie." According to Mann, the film has "no scientists, no techies, none of the usual polished, sanitary environments we're used to in our space films. Space is like anywhere else -- the people who are there are underpaid and poorly regarded." In the year 2196, freight pilot John Canyon (Dennis Hopper), one of the last of the independent truckers competing against the huge mega-corporations, is hassled by high-tech interference plus corrupt bosses. After Canyon delivers a cargo of pigs, genetically engineered to be square and stackable for more efficient shipping, he finds his profits siphoned off by a crooked labor boss (George Wendt). When Canyon heads for Earth with a secret cargo, he's accompanied by young apprentice trucker Mike Pucci (Stephen Dorff) and waitress Cindy (Debi Mazar), who plans to marry Canyon if he gets her safely to Earth. The trio goes through the asteroid belt and are captured by pirates, led by engineering wiz Captain Macanudo (Charles Dance), who discovers the secret cargo of the army androids stolen from him by capitalist corp chief E.J. Saggs (Shane Rimmer) -- who's plotting an android takeover of Earth. Filmed at Ireland's Ardmore Studios, Space Truckers was shown at several 1997 film festivals (Sundance, Sitges, Vancouver).
Critic Reviews for Space Truckers
Audience Reviews for Space Truckers
It's dopey with hammy acting and so-so FX but there's just something about this that makes it alot of fun. Perhaps its because its directed by Stuart Gordon who really shows his Full Moon roots (back when they used to know how to make good low-budget, fun movies) or maybe its because of alot of the familiar faces: Dennis Hopper. Stephen (Blade) Dorff, Charles (Alien3) Dance and Vernon (Commando) Wells to name a few. Or maybe it's just because its a dopey, hammy movie that knows how to have fun. Anyway, I enjoyed it.
A.D. Villarreal
Super Reviewer
Interesting take on the road movie but very watchable.
Barry Lappin
Super Reviewer
Space Truckers Quotes
There are no approved quotes yet for this movie.