Spacehunter: Adventures in the Forbidden Zone
(1983)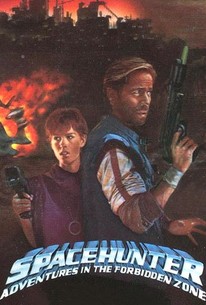 Spacehunter: Adventures in the Forbidden Zone Photos
Movie Info
Originally shown in 3-D, this sci-fi adventure from Canada tells the story of how the title hero, a sort of intergalactic bounty hunter, and his female teen-aged sidekick save a trio of women from the villainous mutant who holds them captive.
Critic Reviews for Spacehunter: Adventures in the Forbidden Zone
Audience Reviews for Spacehunter: Adventures in the Forbidden Zone
If you're a big fan of either Molly Ringwald or 80s sci-fi movies in general, I highly recommend this movie. I loved it, it has a good story, good actors, and it's fun. Of course it isn't one of the best sci-fi movies of the 80s, but I love it anyway.
With a small known cast of Ernie Hudson, Molly Ringwald and a well hidden Michael Ironside this sci-fi film starts off nicely with pretty good looking spaceships, land transports, costumes and a quirky neat feel that reminds you of 'The Ice Pirates' and a gentle 'Mad Max 3'. Unfortunatley the film starts to slide badly from the midway point and loses its reasonable sensible side to become a silly and tacky...almost barbarian type film with amazonian women and dragon type water creatures to a stupid looking evil villian that Clive Barker may have stolen for the Channard Cenobite idea in 'Hellraiser 2' .
Phil Hubbs
Super Reviewer
½
Peter Strauss, interplanetary adventurer and 15 year old Molly Ringwald team up to defeat the Forbidden Zone - a planet with all sorts of evil beings. I found this a really corny movie, although who knew that Molly acted in science fiction movies?
Spacehunter: Adventures in the Forbidden Zone Quotes
There are no approved quotes yet for this movie.