Sparrows
(1926)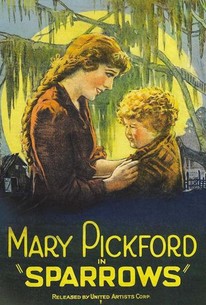 AUDIENCE SCORE
Critic Consensus: No consensus yet.
Movie Info
Sparrows, Mary Pickford's 1926 release, superbly combines the two elements--sentiment and adventure--that characterized Pickford's best work. At first glance, the film seems to be a horror picture, as satanic potato farmer Grimes (Gustav Von Seyfertitz) crushes a child's doll with his thumb and forefinger and tosses the plaything into the dismal swamps surrounding his lands. We learn that Grimes has been exploiting the children from a local orphanage, forcing them to work his farm day and night. Though collecting a hefty maintenance pay for the orphans, Grimes dresses them in rags and feeds them a starvation diet. Happily, Mary Pickford, the oldest of the orphans, has enough gumption to stand up to Grimes and prohibit him from inflicting any further atrocities. The plot thickens when a kidnaped child is left in Grimes' care in exchange for a generous portion of the ransom money. Mary rescues the abducted child, as well as all the other orphans, by leading them through the alligator-infested and quicksand-festooned swamp--a truly frightening sequence, made even more so by the use of real gators. Sparrows falters only in those scenes where Pickford, with genuine but somewhat misguided piety, "converses" with the Almighty, and in the final motorboat-chase sequence, which seems prolonged (and unnecessary!) after that heart-pounding swamp escape.
Critic Reviews for Sparrows
All Critics (3) | Fresh (2) | Rotten (1) | DVD (1)
One of Pickford's finet films with touches of humor, thrills and suspense.
December 25, 2002 | Rating: 4/5
Grim and creepy enough to almost be a horror film--marred by Pickford's religiosity
July 30, 2002 | Rating: 4/5
Audience Reviews for Sparrows
½
This almost perfect silent film about a young woman who rescues a baby from kidnappers directed by William Beaudine and Tom McNamara which name was uncredited, was originally titled Scraps. The story was written by Winifred Dunn, adaptation was done by C. Gardner Sullivan and titles by George Marion Jr. (yes, they needed them, it was a silent movie). It starred and was produced by Mary Pickford. All I can say is - amazing woman! The story of Mr. Grimes and his wife who operate a dismal "baby farm" near an alligator-infested swamp has Molly, an adolescent inmate and the oldest of their charges. She attempts to provide the other tattered, starving kids with the loving maternal care they need. Most of the children are orphans. The children are ordered to hide anytime someone comes to the farm. Molly has promised the others that God will rescue them. When a boy asks why nothing has happened after a month, she tells him that He is busy attending to sparrows (a biblical reference)... that's enough for now... enjoy watching the movie for the rest! Mary Pickford's performance was flawless as ever in this suspense melodrama with lots of adventure elements in it. In 1925 Motion Picture Magazine wrote the following, "It was Douglas Fairbanks who told us that Mary Pickford's production of "Sparrows" was Dickensonian. And after seeing it we have nothing less and nothing more to say of it. Perhaps you know that it is the story of a baby farm . . . with Gustav von Seyffertitz as Grimes, the cruel manager . . . and Mary, as Mollie, who watches over the little boys and girls. Melodrama is interwoven in the story and there is nothing new or startling about the plot. But you won't realize this until the last lovely close-up of Mary has faded from the screen. Which means, of course, that the story interests you so much that your critical faculty is dulled. We are glad that Mary is not going to continue to play grown-ups parts. So many on the screen can be the grand lady. And no one else that we have ever heard about or seen captures the elusive and misty quality of childhood as Mary does. You'll weep a little. You'll laugh a great deal. And you'll hold your breath once or twice." Perfect description of what I just watched. Cinematography of Hal Mohr, Charles Rosher and Karl Struss will always be remembered - real masters of photography! I will recommend that you find the newly restored copy of this movie, sit down and let be amazed at Mary Pickford's skill and one of the strongest performances you'll ever see!
A predictable end, but a truly sad dramatic story. Pickford is charmingly heroic, as well as the kids in the movie. This movie was a lot better than I expected, it's really good.
Sparrows Quotes
There are no approved quotes yet for this movie.