Speak
(2004)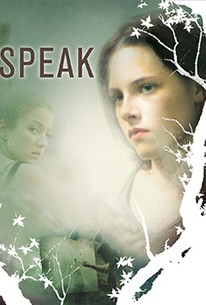 Movie Info
Award-winning short filmmaker Jessica Sharzer makes her feature debut with the teen drama Speak, based on the young-adult novel by Laurie Halse Anderson. Kristen Stewart stars as high school freshman Melinda, who has lost her ability to speak. Ever since a traumatic event that occurred at a party over the summer, she has chosen to remain silent. She's abandoned by her friends, while her mother Joyce (Elizabeth Perkins) is too wrapped up in her own problems to notice. By recalling the details of the past situation, it becomes clear that a date rape occurred. Yet no one has offered her support in order to deal with the psychological consequences. Eventually her art teacher Mr. Freeman (Steve Zahn) reaches out, helping her develop ways to express herself. Also starring Hallee Hirsh and Eric Lively. Speak premiered at the Sundance Film Festival in 2004 as part of the American Spectrum competition.
Audience Reviews for Speak
½
Structurally, this film requires a strong, central performance, and Stewart simply isn't good enough. There are moments when she is quite good, but often she is so understated that she is essentially dead -- I see nothing in her face or movements that betrays anything worth looking at. Dead people make bad film characters. Now, you could say that rape victims often report feeling numb, but playing numb requires more than Stewart is capable of providing (cf. Rose McGowan's rape scene in The Doom Generation). I did like that the film primarily portrayed high school as the command-and-control hell that it usually is.
Jim Hunter
Super Reviewer
This is not a bad little film. It's very slow moving - painfully so at times - but it's very well acted, particularly by Kristin Stewart in an earlier role. It deals with date rape, so is not exactly cheerful viewing, but it's an important topic and I liked how they handled it.
Nicki Marie
Super Reviewer
½
Who says Lifetime doesn't have good programming? Kristen Stewart does quite well as Melinda: the pre-trauma smiles and laughter; the post-trauma silence and distance. However, I can't help being overcritical of her. All her good performances are good in the same way, you know what I mean? Dead, unblinking eyes (except for that unfortunate period during which she blinked too much...), monotone voice, pretty girl with aura of mystery. She's certainly cast well, but I'm curious about her range.
Alice Shen
Super Reviewer
Speak Quotes
| | |
| --- | --- |
| Melinda Sordino: | Oh my God, I'm turning into hair woman. |
| | |
| --- | --- |
| Melinda Sordino: | Ivy is being nice. Say something. My throat is dry. It hurts. |
| | |
| --- | --- |
| Mr. Freeman: | Melinda: "There's no point talking to my ex-friends, our clan the Plain Janes, have been absorbed by rival groups, Nicole hangs out with the jocks, Rachel went all Euro, Ivy straddles two crowds, the Goths and the Marthas, and then there me. I'm clan less. |
| Melinda Sordino: | There's no point talking to my ex-friends, our clan the Plain Janes, have been absorbed by rival groups, Nicole hangs out with the jocks, Rachel went all Euro, Ivy straddles two crowds, the Goths and the Marthas. and then there me. I'm clan less. |
| | |
| --- | --- |
| Mr. Freeman: | Melinda: "I hate winter I've lived in the Midwest my whole life and I hate winter. It starts to early and ends to late, why doesn't everyone move to Florida?" |
| Melinda Sordino: | I hate winter I've lived in the Midwest my whole life and I hate winter. It starts to early and ends to late, why doesn't everyone move to Florida? |