Speaking Parts
(1989)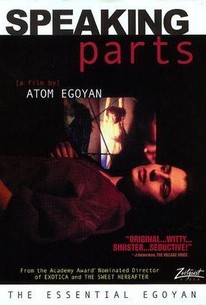 Movie Info
"In my films, you're always encouraged to remember that you're watching a collection of designed images." Thus spake Canadian filmmaker Atom Egoyan in describing his calculatedly non-realistic style. In keeping with his earlier works, Egoyan's Speaking Parts, though grounded in reality, could never be confused with the facts of life. Arsinee Khanjian plays a near-somnambulistic maid who carries a torch for aspiring actor Michael McManus. She obsesses on McManus by renting tapes of the films in which he's appeared as a non-speaking extra. As McManus ignores Khanjian while wooing would-be filmmaker Gabrielle Rose (he wants to star in a film based on Rose's life-saving organ donation), Khanjian develops a sort of rapport with video store manager Tony Nardi, who also harbors dreams of becoming a filmmaker. The most curious (and, to some, maddening) aspect of Speaking Parts is that all the characters physically resemble one another. What this has to do with Egoyan's "message"--if any--is unclear, but it sure works towards the director's goal of assuring that the viewers are constantly aware that they're watching a movie and not Real Life. ~ Hal Erickson, Rovi
Audience Reviews for Speaking Parts
½
Call it "not-bad" Egoyan. He's figured things out better in later films. Here he seems to be experimenting more than trying to create a masterpiece.
John Ballantine
Super Reviewer
½
[font=Century Gothic]In "Speaking Parts", a shy woman, Lisa(Arsinee Khanjian), works as a maid at a hotel where she has a crush on a coworker, Lance(Michael McManus). He is also an actor who has worked as an extra in films(Lisa watches his movies on video. This brings her into the orbit of a video store manager, Eddy(Tony Nardi).) and sees an opportunity to move up to speaking parts when he slips his picture underneath the door of a casting director, Clara(Gabrielle Rose), staying at the hotel.[/font] [font=Century Gothic][/font] [font=Century Gothic]"Speaking Parts" is a good, intelligent movie about communication in the modern age. It is now possible to watch somebody without having any contact with them, but is that a good thing?[/font]
Speaking Parts Quotes
There are no approved quotes yet for this movie.