Special Treatment
(2011)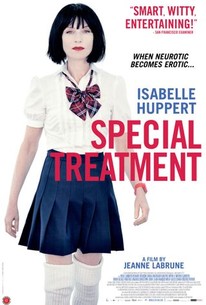 Movie Info
In this darkly erotic drama from cult filmmaker Jeanne Labrune, Isabelle Huppert stars as a high-class prostitute named Alice who serves up sexual fantasies for her clientele, from schoolgirl innocence to S&M. Fed up with the seamy underbelly of French masculinity, Alice crosses paths with Xavier, a neurotic psychoanalyst facing a marriage crisis. The two quickly realize their professions share a thing or two in common as they navigate the overlapping worlds of psychotherapy and sex therapy. -- (C) First Run Features
Critic Reviews for Special Treatment
Audience Reviews for Special Treatment
A thoughtful character study of an aging, high-class prostitute and her reluctant client, a therapist having some marital difficulty. Isabelle Huppert and Bouli Lanners play the two damaged souls who help each other without making any conscious effort to do so. This is a quiet film, without much action and very little skin showing for such a dark subject. The dialog is subdued, but powerful and Ms Huppert is marvelous in her role. The camera work was exquisite, using soft focus and playing with depth of field to keep the viewer engaged at the most pivotal moments. This one grew on me as it progressed.
Mark Abell
Super Reviewer
I am glad I took a friends advice and waited for DVD on this one. I think in a cinema for an hour and a half, this would have been a snore. Quite an achievement for a movie about a hooker played by Isabelle Huppert! This is more like a small slice of her daily life than any big story or plot happening. It just ambles along. There's some of her work with clients (I found the costumes more interesting than anything going on here. Isabelle is still beautiful and compelling onscreen), and the implication that her friend is something more, but it never really goes there either. The main story is that she is tired of hooking and wants to quit. Whether she does or not is up in the air, but I got the impression she did. It's not horrible, but there is really not much of anything going on in this movie. A bit disappointing. Strictly for fans of Isabelle!
Nicki Marie
Super Reviewer
In "Special Treatment," Xavier(Bouli Lanners), a psychoanalyst, and Alice(Isabelle Huppert), a prostitute, walk into a medical supplies store. Xavier is enjoying the material rewards from his practice. Maybe a little too much for his wife Helene(Valerie Dreville) as she kicks him out of their apartment, not liking his attitude one bit. Alice has her eye on an antique chandelier while her friend and colleague, Juliette(Sabila Moussadek), is troubled by the kind of clients her friend brings in. Alice thinks she might be right as she is considering professional treatment, not just retail therapy. "Special Treatment" wastes a potentially provocative set up and only succeeds as well it does mostly by the talent and fearlessness of Isabelle Huppert. A lot of that comes down to less a failure of nerve than sheer indecision by the filmmakers. At first, it seems the movie might be a veiled critique of psychoanalysis by comparing it to prostitution by saying that all everybody needs is a good lay.(Or one could argue if one does something solely for money, then that makes you a prostitute.) But the movie sadly never follows through on that or a fascinating structure that eventually asserts itself before abandoning that to chase down another subplot to explore. In the end, it is about nothing more interesting than a pair of mid-life crises. I guess what comes around goes around.
Special Treatment Quotes
There are no approved quotes yet for this movie.