Species II
(1998)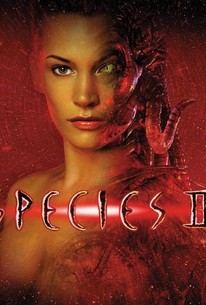 Movie Info
In the science-fiction thriller Species (1995), Natasha Hentsridge appeared as the beautiful but deadly Sil, a human-alien DNA combo. In this sequel, Hentsridge portrays Eve, a government experiment concocted to gain an understanding of how to combat future aliens, while Michael Madsen and Marg Helgenberger repeat their roles from the earlier film. When astronaut Patrick Ross (Justin Lazard) returns from the first manned Mars expedition, he's infected with the same DNA that spawned Sil and Eve. Hailed as a hero, Ross is pressed into politics by his father (James Cromwell), a senator. Any woman who beds the sexually active Ross is immediately impregnated, with embryos quickly developing and killing the mother. Ross hides the offspring on a family estate, as LA cops begin to detect a pattern in the female deaths. At the lab where scientists are monitoring Eve, Dr. Laura Baker (Helgenberger) realizes that Eve has a telepathic link with Ross, and that these two hybrids hope to couple. Press Lennox (Madsen) and Colonel Burgess (George Dzundza) figure Eve can be used to lead them to Ross. Cleared as a murder suspect, Mars mission astronaut Dennis Gamble (Mykelti Williamson), joins Lennox and Baker and gets in on the action as everyone involved closes in on Ross. Richard Belzer does a cameo as the President of the U.S., while Peter Boyle makes an uncredited appearance as a scientist.
Critic Reviews for Species II
Audience Reviews for Species II
½
What's better than alien conquest? Alien conquest through sex, through rape no less ("They came from millions of miles of space ta git muh boo-tay!"). It sounds like a bit much, and yet it's the basis of this sequel ("So good they come back fer seconds!"), which is little more than sexploitation for nerds. And there is a third, too, so this one made some money.
Kevin M. Williams
Super Reviewer
I watched this on cause Mykelti Williamson is in it, I haven't drrn the other Species filns, and I must say I enjoyed this one more then I thought I would. Pleanty of good action, one nasty look allien. I give it 4 stars, 5-29-13
Bruce Bruce
Super Reviewer
½
Decent sequel to Species, Species II is pure popcorn Sci Fi horror that will most likely appeal to fans of the first, or any monster film fan looking for a good gore fest. Though not as fun as the firs, Species II proves to be a lot better than the third and fourth films in this series. This is an impressive sequel that though is far from perfect, has enough momentum to entertain the viewer. This film has enough gore elements to overshadow the paper thin plot, and works. The film is pure popcorn sci fi horror, and though not memorable by any means, this film, this film is nonetheless a worthy film to watch compared to the final two sequels that would follow this film. The acting here is decent at best, nothing ever great, or remarkable. The plot is so-so, and doesn't do anything to blow you away. However what this sequel does is deliver good gore content, and it does it very well. The film plays out like a mindless sci fi horror action film, and it doesn't possess anything truly remarkable about it. Overall this is a fun film that should appeal to fans of alien, monster films. If you can excuse the paper thin plot, you'll most likely enjoy the film. Fans of the first film will most likely enjoy this one as much as the first. Though lacking in content, the film delivers and in the end, that's what matters.
Species II Quotes
There are no approved quotes yet for this movie.