Species: The Awakening
(2007)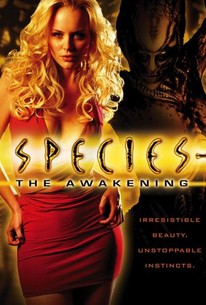 AUDIENCE SCORE
Critic Consensus: No consensus yet.
Species: The Awakening Photos
Movie Info
A brilliant and beautiful college professor makes a terrifying discovery about herself after experiencing a frightening blackout in the latest installment of the shocking Species series. Miranda Hollander (Helena Mattsson) is a genius who is about to discover just how little she truly knows about the universe. Upon awakening from a mysterious blackout, Miranda is horrified to find herself surrounded by a mass of mutilated human bodies. When Miranda approaches her uncle in hopes of discovering an answer to this disturbing development, she is shaken to learn that she is in fact a half-human/half-alien clone. Now, the only hope for Miranda is to flee to Mexico with her uncle and seek out the scientist who created her. But it won't be long before Miranda is unable to suppress the killer instincts boiling up within her, and with an endless horde of murderous hybrids on their trail, it's only a matter of time before planet Earth becomes the ultimate extraterrestrial battleground.
Critic Reviews for Species: The Awakening
All Critics (2) | Fresh (0) | Rotten (2) | DVD (2)
The continuing alterations and added details to the established extraterrestrial species result in something that barely resembles the 1995 film that started it all.
Audience Reviews for Species: The Awakening
Fourth entry in the Species series is one of the worst yet in the series. This film has all the ingredients to be straight to DVD schlock. This film features horrible effects, even more so than the third film. The Species franchise took a tumble after the third film, but with this film, the series attains a new low. As a whole, this is a shameful end to end the series, but at the same time I'm not surprised it ended this way because the previous sequel was bad as well. If you're looking for a great film, you won't find it here. The film plays out like an awful B movie that tries to rank in the big bucks based on its title, unfortunately there's nothing enjoyable here, just bad actors a bad script and bad directing. This film never should have been made and it scraps the bottom of the barrel of good ideas. The film isn't interesting whatsoever, and you can clearly see that the filmmakers are not into making a good film. This film is pointless, and doesn't try to do anything that will thrill or entertain you. The horror elements don'[t work, and it's a very forgettable fourth entry in a franchise that should have ended a time ago. This film joins the legions of bad straight to DVD titles that are forgettable and are a waste of time. This is a horrible film that doesn't do anything to entertain you. This is a horrible attempt at closing a film franchise. Hopefully there won't be anymore.
The 4th and worst of the series so far. Doesn't have any of the characters from the first three films. It doesn't really explain where the hybrid came from or where it was created, so it doesn't have a good link to the other films. It has a very slow, dull build up to the last 20 mins or so. If they ever go back to this series it has to be with a link to the first film and hopefully with a decent idea and budget!
Dead Angel
Super Reviewer
Species: The Awakening Quotes
There are no approved quotes yet for this movie.