Spider-Man
(2002)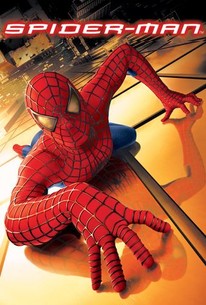 TOMATOMETER
AUDIENCE SCORE
Critic Consensus: Not only does Spider-Man provide a good dose of web-swinging fun, it also has a heart, thanks to the combined charms of director Sam Raimi and star Tobey Maguire.
Movie Info
After incorporating elements of comic book style and design into many of his films, director Sam Raimi helms this straight-ahead, big-budget comic book adaptation, which also marks acclaimed young actor Tobey Maguire's first dip into live-action blockbuster filmmaking. Spider-Man follows the template of the original Stan Lee/Steve Ditko source material, with hero Peter Parker an orphaned, intellectual teen loner living in Queens with his aunt (Rosemary Harris) and uncle (Cliff Robertson), and dreaming of the girl next door, Mary Jane (Kirsten Dunst). On a field trip to a Columbia University lab, Peter is bitten by a genetically altered spider and overnight he gains superhuman strength, agility, and perception. At first, Peter uses his powers for material gain, winning a wrestling match with a purportedly lucrative prize. But when Peter apathetically fails to stop a burglar from robbing the wrestling arena, a tragedy follows that compels him to devote his powers to fighting crime -- as the superhero Spider-Man. When he's not busy fighting crime in a spider suit, Peter moves into an apartment with his best friend, Harry (James Franco), and begins work as a photographer at the Daily Bugle. Meanwhile, his do-gooder alter ego finds a nemesis in the form of the Green Goblin (Willem Dafoe), a super-powered, megalomaniacal villain who happens to be the alter ego of Harry's father, weapons-manufacturing mogul Norman Osborn. Spider-Man was written by the prolific blockbuster scribe David Koepp (Jurassic Park, Panic Room). ~ Michael Hastings, Rovi
News & Interviews for Spider-Man
Critic Reviews for Spider-Man
Audience Reviews for Spider-Man
½
Hey anybody remember those really old Sam Raimi Spider-Man films? you know there were three of them and I think they were quite popular at the time. Ah who cares now we have a much better rebooted franchise which isn't exactly the same right? errr yeah, sure. Yep so we still have these old Raimi films, they won't vanish or anything. But before tossing these old Raimi films into the bin of film oblivion lets discuss how dated and so not cool they are now. So its film one and naturally we get the origins of Spider-Man/Parker and all the various characters around him. Harry Osborn is trying to maintain his company and experiments on himself with their new performance enhancing vapour drug stuff to try and keep the important military contract which is dangling by a thread (oh and he's already building the Glider and special suit combo too for some reason). Low and behold it kinda turns him crazy as an unfortunate side effect even though it does sort of work. From there on out Osborn slowly turns into the Green Goblin and Spider-Man must defeat him whilst protecting his family and friends. What made me giggle a bit was the fact that Parker goes to this genetics laboratory where he is shown all these genetically enhanced spiders. He of course gets bitten by one of them which has somehow escaped and it leaves a nasty little red mark. Now you'd think he would report that asap really, you've been bitten by a spider in a laboratory full of dangerous arachnids, might die here fella. Nope he goes home feeling ill, once home the bite has now swollen badly and he's feeling pretty ill it seems, time to call the hospit...nope it'll clear up. After the discovery he can climb walls, leap around like crazy, fight etc...he then gets carried away and goes off across the rooftops like someone who wants to get spotted and exposed. Oh wait he doesn't wanna do that does he, kinda silly thing to do then really. On an honest note I did quite like the origin build up in this film I admit, its done in a nice light-hearted true comicbook fashion that is simply likeable. The effects used to show how he can see fights and things in slow motion works really well without actually having to use all that Zack '300' Snyder tomfoolery. Seeing Parker crawl up walls is an old but neat trick of the eye and its a nice touch to see him in his initial childish homemade outfit getting to grips with his skills. Not too sure how he made his proper outfit though, he just swings into one scene and its there, presumably he made it? how?? looks expensive. Of course the effects for Parker swinging through the air are now pretty dated looking even though it doesn't seem like a really old film. The CGI is average and ranges from passable to down right awful at times, although the famous Spider-Man outfit makes it look better than it actually is. There is also some nasty use of bluescreen here and there along with some quite cringeworthy comical moments, or should that be attempts. Even the photos of Spider-Man taken by Parker for the 'Daily Bugle' look completely fake which was amusing. It is a comicbook adaptation of course so there is a very limited amount of graphic violence or blood on screen, there are some edgy bits though no doubt but overall its actually handled well and holds that balance just right, in other words this isn't an infantile flick. The Green Goblin was a hot topic at the time due to the fact it wasn't actually the Green Goblin, it was a man in a suit. I must admit now I think this works OK, at the time I didn't like it and I can see why as you kinda feel cheated (bit like The Mandarin in 'Iron Man 3'). But watching this now I think it was a good move to show Osborn going nuts and developing a split personality, it feels much more realistic and gives much more depth to the character...like did Osborn ever really have control? should Spider-Man tried to save him in the end? etc...The Goblin suit is a touch off visually I gotta say, I think they could of done that a bit better, used some other green tones on there, maybe make his helmet a bit more striking. It did look more like a giant plastic suit for a toy character that some poor sod would be wearing in a mall for advertising purposes, a bit hokey. On the other hand the CGI and prop work for the Glider was fine I think, looked pretty sweet. The film ticks along just fine really and the cast are likeable fitting their roles well. Maguire is a good Peter Parker no doubt but I still have a hard time thinking he's under the Spider-Man suit, luckily we don't actually see that so it could be anyone and probably is. Dafoe is the best thing in the film by far with his scene stealing scenery chewing performance, not only that but his face is the perfect shape and structure for the Goblin too. When you see the Goblin swoop down you totally believe its Dafoe overacting all the way, I could almost say he saves the film because without a good villain this would have sunk, good CGI effects or not. I love the way he growls and cackles into the mirror with those devilish eyes of his. The finale is daft I will say it now. How the hell does Parker/Spider-Man manage to hold onto that cable car full of kids with one arm whilst using the other arm to stay clinging to the bridge is beyond me. Its there I also realised that his spider web squirty stuff is also damn strong it seems...really damn strong! The actual final fight between the two main characters is decent enough though showing Spider-Man battered pretty good with blood! In my personal opinion this is a better film than the recent rebooted version, its a much easier fun going Spider-Man adaptation with more comicbook-esque visuals. There are silly moments and bits that don't work sure, why on earth they stuck Macy Gray in there I don't know because that dates the film badly and her voice is annoying, there are a few Superman-esque shots where Parker rips his shirt to reveal the Spider-Man logo, Sony product placements! and Mary Jane only recognises Parker as Spider-Man by his kiss?! wut?! what about his voice?! The Green Goblin's attacks are also completely inconsistent as one minute he uses bombs and vaporising bombs to kill, the next he throws some whirling blade things when he should of used the bombs that would have worked very effectively. It is certainly pretty cheesy and pantomime-like looking back but hey that's fine, I found myself enjoying this film much more than I recall back in the day and like I said I also enjoyed it much more than the reboot.
Phil Hubbs
Super Reviewer
½
One of Marvel's flagship characters finally makes it to the big screen and with Sam Raimi at the helm, you have a sure-fire winner. The first half of the film is as expected, fantastic. It has just the right balance of humour and action and although Tobey Maguire's acting talents are rather limited, he manages to pull off the dorky charm of Peter Parker with some success. There's a lot of humour in the discovery of his powers and how to use them and the supporting characters are all believable. It also shows the motivations and character development of Spiderman really well and rarely descends into schmaltz. Unfortunately once the tights go on, things are not quite as strong. The Green Goblin was never a particularly interesting character and although the schizophrenia plot line is clever, Defoe holds the attention far more as the disappointed father than a dayglo action figure on a hover board. Raimi handles the action nicely though and it's worth it alone for J. K. Simmons whose hilarious J. Jonah Jameson steals every scene he is in.
Even with all it's cheesiness, Sam Raimi's "Spider-man" stands as one of my favourite superhero movies, and it has one of the greatest superhero stories to be told. It may have it's cheesiness running throughout, but who better to present us with that, than the one and only Sam Raimi. Almost every superhero film can be laughed at through it's corn, but the fact is, when you watch a piece of fiction, it doesn't matter whether it's believable or realistic, because it's meant to be fake. "Spider-Man" is my favourite superhero, and this is one of the best origin films out there today. It may not follow the comic books very well, but when you have a film that is constructed as well as this, you cannot make an argument that this film is bad. I really enjoy watching this film, even though it becomes a little too silly at times.
Spider-Man Quotes
| | |
| --- | --- |
| Dr. Mendel Stromm: | We need to take the whole line back to formula. |
| Green Goblin/Norman Osborn: | Back to formula? |
| | |
| --- | --- |
| Spider-Man/Peter Parker: | Some spiders change colors to blend into their environment. It's a defense mechanism. |
| Harry Osborn: | Peter, what makes you think I'd want to know that? |
| Spider-Man/Peter Parker: | Who wouldn't? |
| | |
| --- | --- |
| Norman Osborn/Green Goblin: | I've been like a father to you. Be a son to me. |
| Peter Parker/Spider-Man: | I have a father. His name was Ben Parker. |
| Norman Osborn/Green Goblin: | God's speed, Spiderman. |
| | |
| --- | --- |
| Peter Parker/Spider-Man: | Let mom and dad talk gobby |